Beetroot is a superfood with tons of fiber, vitamins, minerals, and antioxidants that contribute to your wellbeing and health. You can add other foods to get a healthy beetroot combination that can add flavour and taste.
Ever since I was young my mum made us beetroot every Thursday for dinner. She said it was good for my health but it tasted so awful I never finished my plate. But if she made beetroot juice I would drink a whole glass and ask for more. Now I understand why she said beetroot is a wonderful veggie. I now eat more of beetroot and I love to make juices that add different flavours and taste to the beets.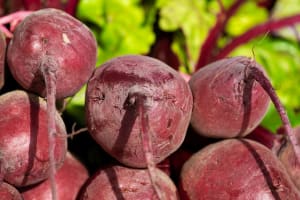 Image: Pixabay
Some beetroot health benefits
Beetroot is a great source of iron that helps to maintain healthy levels of hemoglobin in your body.
It has anti-aging properties that help to reduce early signs of aging and wrinkles while giving you glowing skin and healthy hair.
It helps to boost your metabolism and maintain a healthy digestive system.
Gives a boost to your immune system.
It helps to reduce your blood pressure and blood sugar levels.
Beetroot helps reduce the risk of developing chronic diseases like cancer.
It boosts your energy levels, athletic endurance, and stamina which helps your body to exercise faster and for longer.
A very good detoxifier that removes all toxins and waste in your body.
Healthy beetroot combination
If you're not a fan of eating raw beetroot, you can juice it and try making a healthy beetroot combination of different fruits that are sweet and have a delicious flavour. You can try using berries, pineapples, oranges, lemon, ginger, etc. orclick here for more beetroot combinations.
# 1 Ginger beet juice
Ingredients
1 large peeled beet cut into wedges
3 kale leaves
1 medium peeled orange, quartered
1 medium apple cut into wedges
1-inch peeled fresh ginger
1 medium peeled carrot
Ice cubes – optional
Method
In a blender or juicer put the softer ingredients first like the oranges, and kale and blend till they liquefy.
Then add the beetroot, apples, carrot, and ginger. Blend till there is a smooth consistency or until you can't see large particles.
If you don't have a juicer you can get cheesecloth and make it be your sieve. Cut and fold the cheesecloth 4 times.
On a large bowl place, the cheesecloth over it then pour the juice to drain it.
Take the edges of the cloth and using your hands squeeze the juice from the pulp. You can wear gloves if you don't want to stain your hands.
#2 Beet, apple, carrot, and ginger juice
Ingredients
1 medium beet, washed, peeled, and quartered
3 peeled and rinsed carrots
1 peeled medium apple, cored and quartered
1 tbsp. fresh peeled ginger
Unfiltered apple juice – optional
Method
In a blender put all the ingredients and blend until smooth.
Add some apple juice if needed like a ¼ cup.
Over a large bowl place, a fine mesh strainer then pour the juice over it. Using a rubber spatula press down the pulp to remove all the juice.
Discard the pulp and pour the juice into a serving jar.
Refrigerate to chill for a few minutes or drink immediately. It tastes better when fresh but you can put in the fridge for one or two days.
Ingredients
2 medium beets
2 large carrots
1 apple
1 whole lemon
2 cups of blueberries
½ cup raw broccoli
2 slices of ginger, peeled
1-1/2 cup pure coconut water
Method
Chop your beets, carrots, apples, ginger, and lemon into cubes and put them through the juicer as per the instructions alternating with some blueberries.
When halfway pour some coconut water to help clean and push the pulp. Finish juicing all the ingredients then pour the remaining coconut juice to make 4 glasses of juice.
Drink right away to get all the nutrients or put some ice cubes.
Beetroot is a great nutritious veggie for your body
Beetroot is a great root veggie that is nutritious and full of many health benefits. If you don't like eating beetroot because of its earthy taste you can take it as a juice and combine it with better tasting fruits. There are many fruits and veggies you can add to beetroot to make it tastier and nutritious that will benefit you and your family.
FAQ
What protein goes best with beets?
Beets have a sweet flavour and a dense texture that will go well with ham, pork, duck or salmon or swordfish.
What flavour do beets have?
Beets have a compound called geosmin that is got from the microbes in the soil. This is what gives beets the rich earthy flavour.
Are beets sweet or bitter?
Beets have an earthy taste that is a little bitter. If you can't stand the taste you can add some sweet ingredients to make the taste more bearable.
Are brown beets OK to eat?
Gold beets turn brown due to oxidation. To prevent this from happening once you slice beets immediately put them in water to avoid having any contact with air or you can eat them immediately you slice them.
Can I freeze beets?
Before you freeze the beets you need to properly cook them because raw beets don't freeze well. The easiest way to cook beets is to boil them in water and when tender to put a fork through, cool, peel, cut into cubes, and freeze on a tray, pack into freezer bags, and put in the freezer.