There are enough vitamin brands to go round the world several times if they were tied onto a rope. This can make it hard for you to choose without suffering disappointment. So to separate the wheat from the chaff, here's a Juice plus vs Flintstones in-depth review.
What Are the Main Differences Between Juice Plus and Flinstones?
Supplement Juice plus Main categories:
Garden blend and Orchard blend
Complete, iron, immunity support
Main source ingredients:
Fruits and vegetables
Citric acid
beeswax
coconut oil
gelatin
corn starch
glucose syrup and so on
Main functions:
Improves brain function
improves metabolism
boosts energy
Facilitates growth
improves eyesight
boosts energy
increase immunity
Juice plus vs Flintstones-what are differences?
What are the main categories?
Vitamins come in different bottles as way to separate different products intended for different uses.
Here, Juice plus Vitamins is known for its two main products, this includes the Orchard blend vitamins which carries little capsules or chewables made from fruit extracts, the Garden blend bottle contains vitamins made from vegetable extracts.
Alternatively, Flintstones vitamins are known for products such as Flintstones complete, Flintstones immunity support and Flintstones iron. The idea is to pick a supplement that resonates the most with you and with your body's needs.
Main Source Ingredients for Flintstones and Juice Plus
Forget the color, the taste, and the adverts. It is in the ingredients where you gather information about how authentic or helpful the vitamins you take are.
Juice Plus vitamin ingredients are pretty straight forward. The Orchard blend has vitamins derived from delicious fruits like acerola cherry, cranberry, papaya, apple, pineapple, prune date, orange, and beet. The Garden blend bottle has been made from nutritious vegetables like kale, spinach, parsley, tomato, beet,cabbage broccoli to mention but a few.
Every pack/ bottle of Flintstones vitamins has different ingredients suited to its major benefits. There are however some common ingredients, they include; beeswax, coconut oil, glucose syrup, corn syrup, citric acid, acacia gum, palm kernel oil, gelatin, rapeseed oil among other ingredients.
What are the main functions and benefits?
When you take vitamins, you want to know what changes will take place and how they are going to help you stay healthy.
Juice plus vitamins are the best if you want to increase your energy levels, improve how your brain works and improve your metabolism.
On the other hand, Flintstones vitamins are generally meant to also help keep you active and energized, increase your immunity levels, help you see better and facilitate growth especially in kids and young adults.
Juice Plus vs Flintstones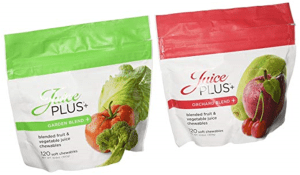 Feature and Ingredients
Over 30 billion dollars is spent by people to buy vitamins in America alone. This is a number that for years has continued to soar.
There may be a lot of uncertainty and ongoing research about how important it is for people to take supplements.
However, if you take a vitamin and notice specific positive changes in your body, physically and mentally, you will definitely make it part of your life. Juice plus Vitamins have a simple based, high-quality formula that looks to use only the necessary yet wholesome fruits and vegetables to help revert your body back to health.
In addition to the fruits and vegetables you take during your meals, you are sure that nothing goes to waste by taking Juice Plus supplements.
Pros
Made from the most nutritious fruits and vegetables
Improve your memory through enhanced brain function
Increases your rate of metabolism
Helps you maintain more activity by boosting your energy levels
Con
If you want to benefit fully, you may have to purchase both bottles instead of one which may mean increased costs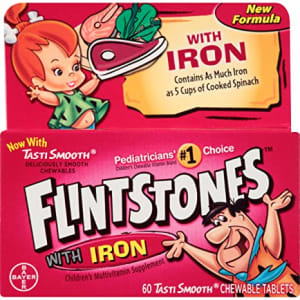 Features and Ingredients
It is easy to say that there's no need to take supplements because the food you eat has more than enough vitamins and minerals.
It is also true that most of us especially kids, never finish all the food that is on our plates and the few times that we do is when we are chewing on unhealthy food. When you are dealing with children, it is a constant battle trying to get them to finish their vegetables let alone the rest of their food.
For these reasons, I believe that vitamins have a huge role to play in our lives. Flintstones vitamins may not perform miracles for you and your health, at least not in a day.
But of its numerous benefits, you will start to see better, you can better fight diseases, you'll feel more energized and if you're a child or young adult, these vitamins will help you grow and develop properly.
Pros
Helps improve eyesight and eye health
Boosts energy
Facilitates proper growth and development in kids
Increases immunity
Con
If you are buying vitamins for kids, make sure that they chew the gummies properly before swallowing to avoid choking.
Conclusion
Health experts know that vitamins are essential for any human being. Eating a balanced diet comprising yogurt, bread, cereals, eggs, fruits, and vegetables is enough to supply you with enough nourishment.
But to maintain overall health you may have to take vitamins just to be sure you are on the safe side.With Flintstones vitamins, I feel I have all the wholesome goodness from essential oils, fruits, and vegetables all which I believe can give me the supplementation that I need.
Frequently Asked Questions
Can adults also take Flintstones vitamins?
There are Flintstones vitamins designed for adults and Flintstones vitamins designed for kids. Make sure that when you go to purchase your vitamins, you carefully check the label to see who they are made for.
Are vitamins made for kids effective?
Owing to their disregard for vegetables, children need to take vitamins. This way they get sufficient supply of vitamins and minerals needed to enable them to grow and develop normally while remaining healthy all through.
Can I take Flintstone vitamins instead of prenatals?
Expectant women need to take vitamins with higher levels of folic acid. Ordinary Flintstones vitamins do not meet some of the thresholds needed for a healthy pregnancy and my, therefore, be less than sufficient for a pregnant woman
Can a toddler take vitamins too?
Doctors recommend that children within six months and five years take supplements regularly. But if your child is a good eater and he or she feeds on healthy food then the need for supplementation is minimized.
Gummies vs pills, which ones are better?
Both vitamins and pills are made from the same ingredients but come in different forms. It is up to you to decide how you like taking your vitamins. Some people prefer to chew, others prefer to swallow.