The hustle and bustles of life are leaving people focused more on providing and making money. This has taken the attention away from watching what you eat and exercising. In this Smarty pants vitamins vs Juice plus we share ideas on how you can use supplements to reverse the effects of a busy life on your body.
I have to be honest, trying to juggle between parenting, school work, marriage,and my own personal life is no walk in the park. For the past couple of years, I have been focused more on making sure every other thing is done on time and everyone else is taken care of.
Only problem with this is that I completely neglected myself. I forgot that I needed to take care of myself too.
A light bulb moment suggested I try supplements. But aren't those for pregnant women only? As I soon came to learn, supplements are for everyone! Here's a Smarty Pants vitamins vs Juice Plus comparison showing just how good vitamins are for you.
Smarty Pants vitamins vs Juice Plus-how do these two compare?
Categories
Smarty Pants vitamins come from a company that is serious about the type of supplements they produce for their consumers. For this reason, they have made sure that vigorous research and effort is given towards making sure that these supplements prove useful in your body.
Ingredients sourced from countries all over the world with the finest soils have been carefully blended together into two main unique formulas. The main categories include, Smarty Pants vitamins for men are made to support all the functions in a man's body while Smarty pants women vitamins are made to support a woman's anatomy.
Alternatively, Juice Plus vitamins are divided into the orchard blend which consists of vitamins extracted from fruits and the Garden blend containing vitamins extracted from different nutrient-rich vegetables.
Main source of ingredients
There may be hundreds or even thousands of supplement brands you've seen or heard about. I bet you wonder, what sets them apart? Aren't they all the same? Well, different supplements use different ingredients which makes each brand unique. To make their vitamins, Smarty Pants supplements use ingredients like Omega 3 fish oil, Lohan/Monk fruit, Gelatin, Vitamin B12, and soil-based probiotics.
On the other hand,Juice Plus vitamins contain extracts from fruits like orange, papaya, peach, pineapple, beet, cranberry, acerola cherry,and dates. The garden blend vitamins from juice Plus contain vitamins collected from kale, rice bran, cabbage, spinach, carrot, oat bran, tomato, garlic beets, broccoli,and parsley.
Packaging
You'd be surprised to find out just how many people shun a perfectly healthy meal simply because it doesn't taste good. Research indicates that more people have declared themselves as 'sweet tooth' due to their love for sugar or sweet tasting food. This I imagine must be the logic behind why most if not all Smarty Pants Vitamins are gummies. You get to choose whether you want a lemon, blueberry or orange flavored gummies. What a clever way to make sure you enjoy taking your supplements.
Juice plus supplements come either in form of capsules or as gummies. This way those people who aren't keen on taking sweet tasting food and those who like sweet foods are all catered for.
Smarty pants Vitamins vs Juice Plus reviews
Features and ingredients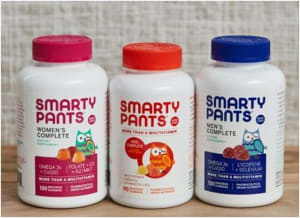 What stands out the most to me is how much attention smarty pants have given to their vitamins to make sure it guarantees total support whether it is a senior person, a man, a woman, a teenager or a child taking them.
Each gummy you take has vitamin K to support bone health, vitamin D for stronger immunity, omega-3 fish oil, Lutein and zeaxanthin to support vision and brain function, and enzymes (CoQ10) aimed at supporting a healthy heart.
Other ingredients in these supplements include Gelatin, Vitamin B12, soil-based probiotics,and Lohan/monk fruit. It means a lot that these supplements are void of synthetic colors, flavors, or preservatives.
If you tend to have high sensitivity towards certain foods you can bank on these supplements to be extra friendly to your system because they contain no eggs, soy, dairy, peanuts gluten or wheat.
Pros
Provides complete support for consumers across the board
Does not have artificial additives or synthetic sweeteners
Unique formulas for men, women,and kids
Only uses high-quality ingredients sourced from all over the world
Con
If you do not like sweet or sugary things, you may not like these gummies
Features and ingredients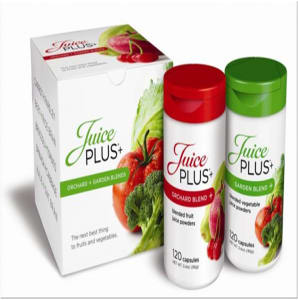 With thousands of consumers swearing by Juice plus supplements, it is clear this product is authentic and has a lot to offer.
If you are serious about taking control of your life, thensuch high-qualitysupplements need to be your new best friends. Juice plus vitamins are simple, non-complicated, well-formulated supplements made to rejuvenate and re-energize your body from head to toe, inside and out.
Extracts are sourced from the freshest ingredients which are first blended and thereafter dried and packaged. Juice Plus supplements have no added sugars, fillers or flavors.
The aim is to have you take something that is clean and organic for full body support and function. If you'd like to reap the benefits from fruits, how about try the Orchard Blend. If you like salads or are a vegetable kind of person, you will love the Garden blend vitamins.
Pros
Helps to alleviate anxiety and depression
Improves organ performance
Lowers blood pressure
Can slow down the aging process
Con
These supplements contain Glucomannan which is considered a choking hazard.Remember to take these vitamins with a lot of water to avoid choking.
Conclusion
It feels great to take a supplement which I know has been made specifically for me. This is why I choose Smarty Pants Vitamins over any other supplement in the market. Going by this Smarty Pants vitamins vs Juice Plus review, you are better informed and equipped to choose the best vitamin supplement for you.
Frequently Asked Questions
Can I take smarty Pants vitamins during pregnancy?
Smarty Pants vitamins is made out of quality ingredients that supply women and expectant mothers with important nutrients to support a healthy pregnancy. Plus you can always get ready made Smarty Pants prenatal vitamins.
I have depression can Juice Plus supplements help?
Supplements are designed for the sole purpose of supporting your body. They are not supposed to treat or cure any diseases. Juice plus supplements have been found to help support brain function and ultimately can help alleviate depression.
Are Juice Plus supplements effective?
Going by customer feedback many have found Juice Plus supplements to be quite helpful. Many confess to feeling more energized, happier and generally healthy after taking supplements.
Can I give Smarty Pants supplements to my kids?
Yes. In fact, there are Smarty Pants vitamins made just for kids. They come in these delicious little orange, lemon or blueberry flavored gummy bears.
Are Juice plus supplements Natural?
Juice plus supplements are sourced from real, fresh fruits and vegetables. They contain no preservatives, added sugars,and no added flavors