You might be asking yourself these two questions: why would I move to an electric mower or how long does an electric mower last? That is the aim of this review. I want to spend some time talking about how my experience over the last three years with my EGO electric mower has been.
Moving over to an electric lawn mower wasn't a huge deal to me because I enjoy using new technology and trying out new things; but for you it might be a decision you're still sitting on. Hopefully the rest of this article will inform you well of the last few years using this piece of equipment.
---
EGO Model LM2000, LM2001, LM2002
Overall rating :  5 / 5 ⭐⭐⭐⭐⭐
Quality
The EGO mower is superior in quality! Many people continue to refer to them as the Tesla of mowers. And I agree!
Cost
There is a premium cost associated with the mower. But I stand firm that you will not be disappointed. (This comes after owning the mower for more than three years.)
Is the EGO mower waterproof?
From August of 2019 until May 2020, our mower sat outside. I don't mean like under a canopy where it sporadically got hit with water. I'm talking directly out in the open; in the sun, in the rain, storms, tornado warnings, everything!
To make a story short, we were renting at the house where it had to stay outside. We did not have a storage shed or any other place to store it. I thought it would be a good test anyway to test the durability of the EGO.
In the meantime, our Greenworks mower also stayed outside.
Guess what? The Greenworks mower doesn't work anymore! After the second or third rain, only a red LED light comes on when putting the battery in. I sent over a support request, and they responded with links to their user manuals. What great customer support!
Back to the first question, I would say that it isn't waterproof because that indicates it can be submerged into water, but instead, I do hold the stance that it is extremely water resistant. More on that in the Can the EGO Mower Get Wet? section.
Cleaning the electric lawn mower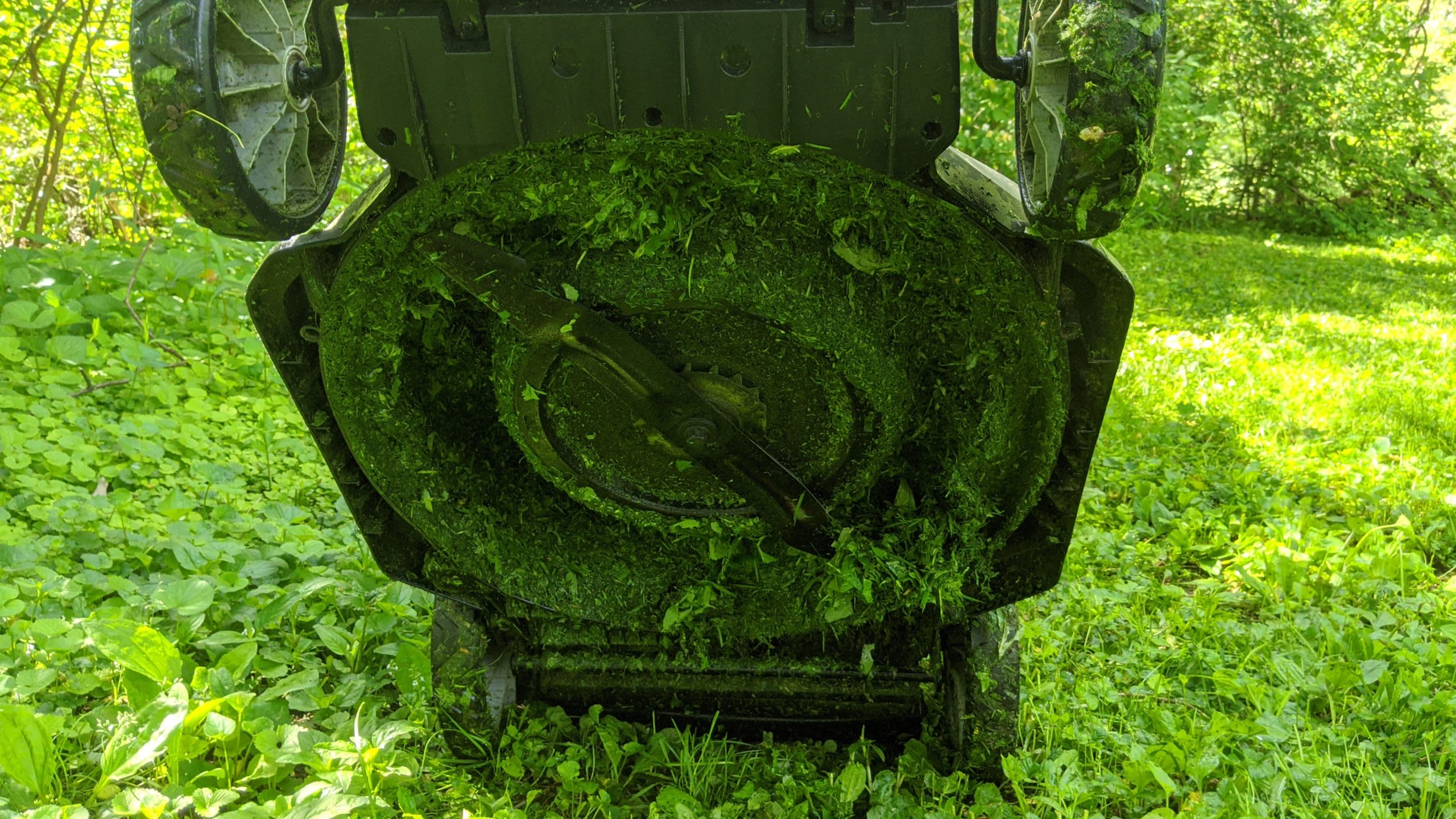 The EGO LM2002 model has a plastic deck. Spraying it out with a hose has been great so far. Even this many years later, it still sprays out well. I'm surprised with how well the plastic has held up versus an EGO steel deck model which I've read about in other forums.
EGO does not officially support spraying out the underside of the mower. They recommend to use a curved plastic scraper.
>
EGO FAQ section
The outside of the mower holds up in the weather due (minus the fact of fading, pictures included) to the rugged plastic material.
Keeping the blade sharpened. How's that been?
I'm not sure if I should be embarrassed about this or impressed…
For the entire time I've owned this (now more than three years) I have not once sharpened the blades. I've included some shots of a recent cut (grass about 3-4 inches tall or more) just to show how well it still does!
I'm sure that if I would take the time to sharpen the blades, it would be much better, but I'm not complaining at all about how it still continues to mow well.
You can click on any image below to take it full screen for a better resolution.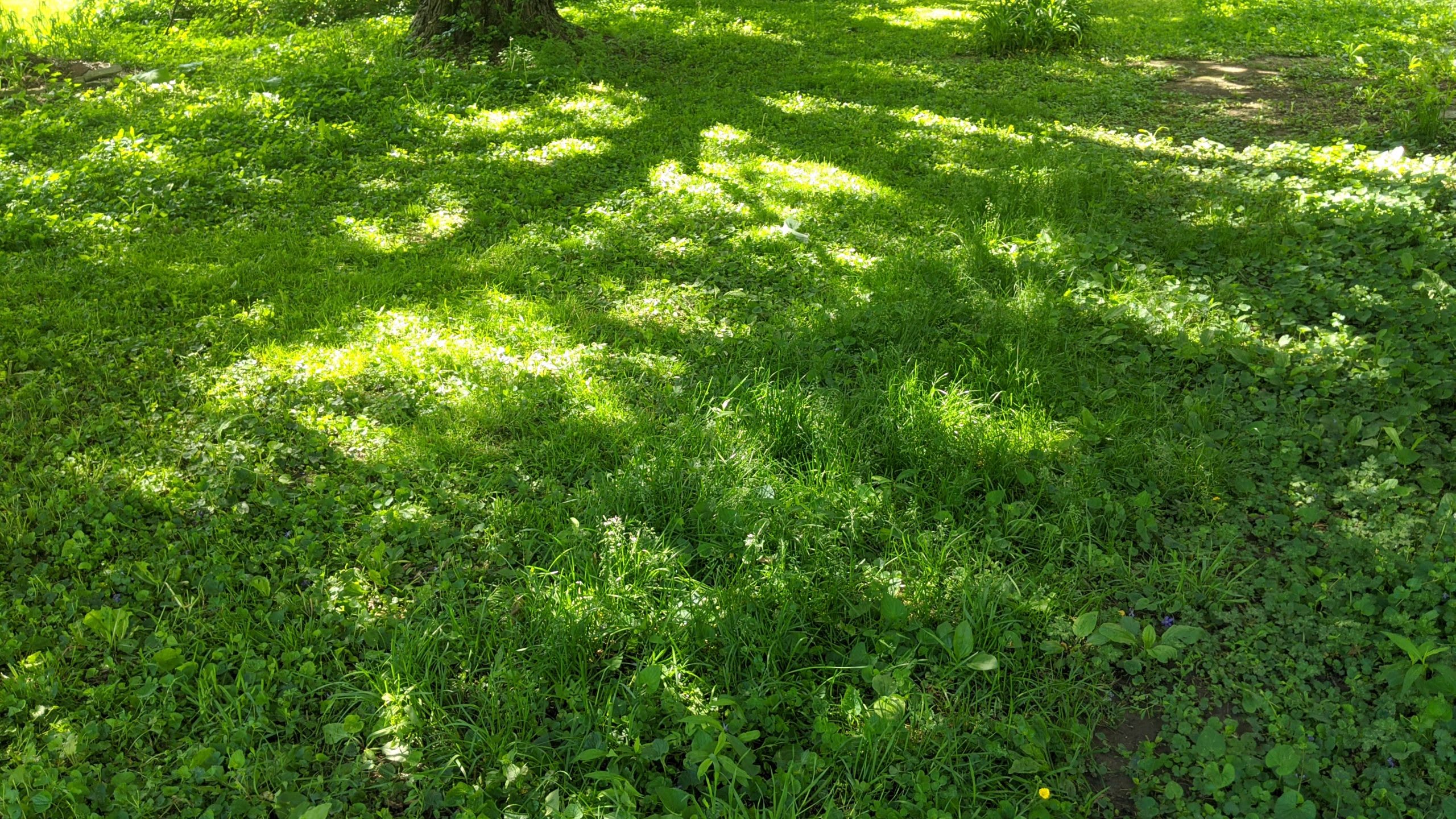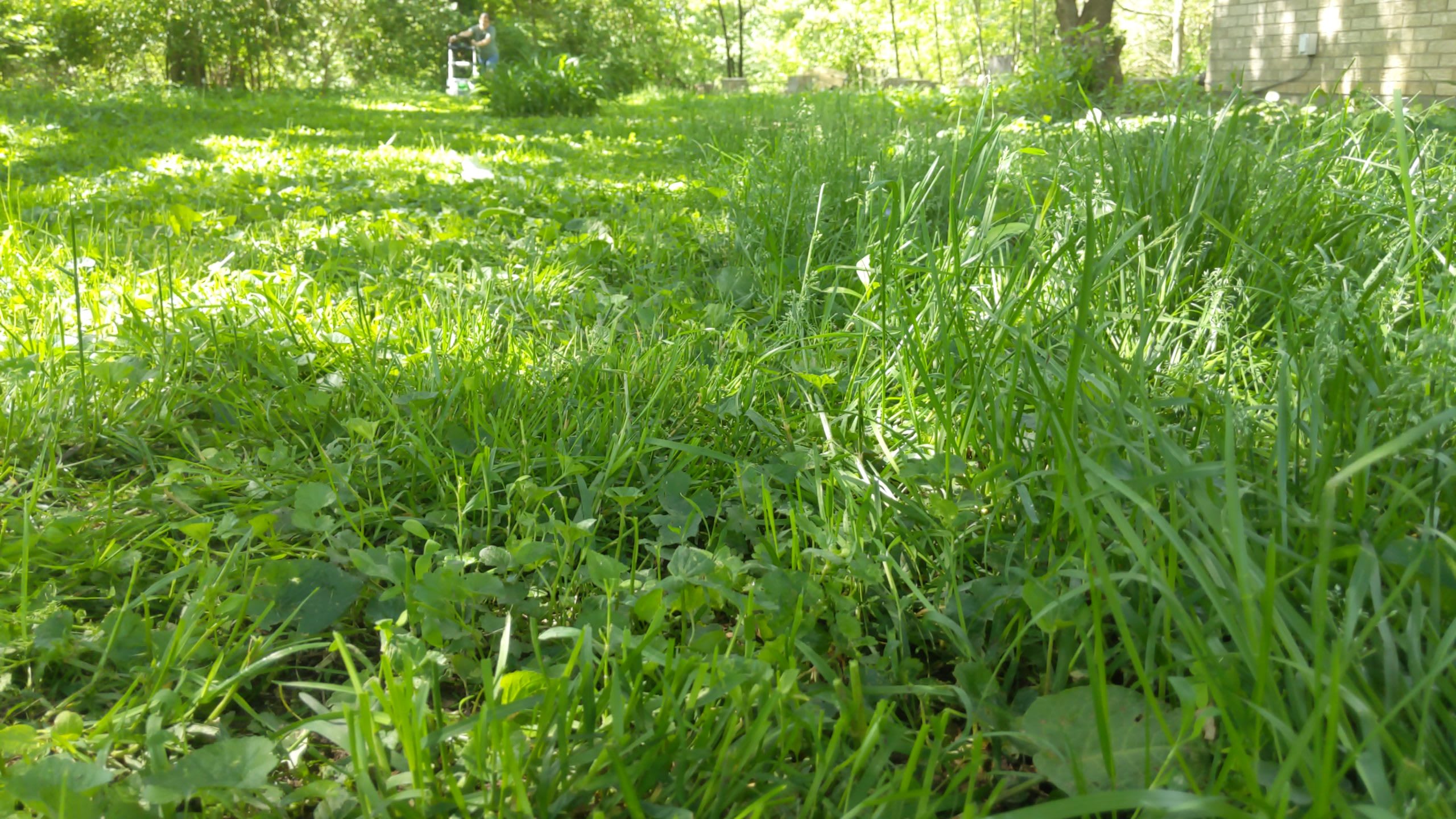 Battery Life on the EGO: 3 years later…
The biggest concern I had when we received the mower in 2017 was how is the battery going to hold up over the years?
I'm pleased to say (actually excited) that the battery still continues to perform nearly the same as when we first used it. The beauty about the EGO line of products is that all of their chargers work with all of their batteries. So, no matter which EGO charger you own, you can charge any of the batteries you receive with their mowers, trimmers, or other products.
For our model, it has the 5.0Ah 56V battery. This has allowed for ~45 minutes of runtime depending on the height of the grass in the yard. One feature I like about their battery setup is that when the power starts to get low, a red light comes on indicating you are about to run out of power.
Another benefit: a 30-minute quick charger. This is no joke! Although the charger sounds like it might take off flying by the sound of it when it first gets going, you can honestly expect a full charge for your battery in close to 30 minutes.
If your yard does take over 45 minutes to mow, you can get the majority of it done and use the quick charge feature to wait a short amount of time to get going again.
From my perspective, I'd rather wait the 30 minutes and then get back to mowing than have to mess with all of the hassle of maintenance on a gas mower.
Typically the routine I used for our larger yard was mow as much as I can, put the battery on the quick charger, trim the yard, then come back to mow after the battery was fully charged.
When I completed mowing, I'd stick the battery back on the charger knowing that it'd be full for the next mow.
Here are a couple of frequently asked questions I was able to find over on EGO's website about the 5.0Ah battery.
What is the typical shelf life of an EGO battery?
Due to their high capacity, all EGO batteries can be stored unattended for a minimum of 10 years without damaging capacity and cycle performance. After 30 days batteries discharge to 30% capacity (to ensure longevity).
Are EGO batteries compatible with all EGO Products?
Yes. Whichever EGO Power+ 56V ARC Lithium™ battery you choose for the job; our forward-thinking design means it will fit any tool. And when it's time to charge up your power, your charger will fit any battery.
What is the warranty on this EGO Mower?
All EGO tools carry a 5-year limited warranty purchased from authorized EGO retailers. There is a 3-year limited warranty on EGO Power+ System battery packs and chargers purchased from authorized EGO retailers.
Please contact EGO Customer Service Toll-Free at 1-855-EGO-5656 any time you have questions or warranty claims. The warranty period for any EGO product, battery pack and charger used for industrial, professional or commercial purpose is one year. The warranty period for reconditioned or refurbished products used for residential purpose is 1 year, for industrial, professional or commercial purpose is 90 days.
The warranty period for routine maintenance parts, such as, but not limited to, blades, trimmer heads, chain bars, saw chains, belts, scraper bars, blower nozzles, and all other EGO accessories is 90 days for residential purpose, 30 days for industrial, professional or commercial purpose.
Can the ARC Lithium™ EGO battery exceed the power of gas?
Yes. Thanks to advances in battery technology, it is now possible to achieve gas-matching power — without the noise, fuss or fumes.
source: EGO Power 5.0 Amp hour battery page
Why buy an EGO electric lawn mower over gas; is it worth it?
I'm really happy to have had the years of experience now with hands-on actually using an electric mower to compare it to a gas mower. As I mentioned in the beginning of the article, I wasn't against moving to an electric model mower, but I did have my concerns as I believe anyone would.
But, I'm going to add in what I see as some of my biggest takeaways from each use of the mower.
First, I don't have to pull a string anymore. It's not that it was such a huge hassle to do this, but the luxury of a literal push button really gets me excited to mow the grass. I know that it's going to start up quickly and it's not terribly difficult to troubleshoot if it doesn't start. Really, the only options are a dead battery or a dead motor.
Second, I have virtually NO MAINTENANCE. In a typical gas mower, you're looking at changing spark plugs, adding/changing oil, air filters, strings that break, filling/refilling the gas tank. Then you have to worry about where it's going to be stored when it's cold outside. This completely goes away with the electric lawn mower.
By the way, did I mention already that I let this EGO mower sit completely outside all the way through winter?
Can the EGO mower get wet?
Yes, the EGO mower is rated for weather resistance. It is built with rugged construction to help it withstand outdoor elements.
Well, I feel like I have already answered the question, but I do want to add some further to this. Where the battery goes is a green cover (on the LM2002 model) that protects the circuits where the battery connects.
If this cover were to be open, I'm sure it would cause problems with the mower; however, I feel like the folks at EGO did a really nice job of making sure when this is closed, little to no water will fall into that compartment.
Is the EGO Mower Battery Waterproof?
The battery is IPx4 rated. This is the equivalent of having a light rain's worth of water hit the battery.
Visit the EGO battery page to learn more. They also recommend to return batteries to an EGO dealer that have been exposed to water for longer than recommended.
How has the storage/folding worked?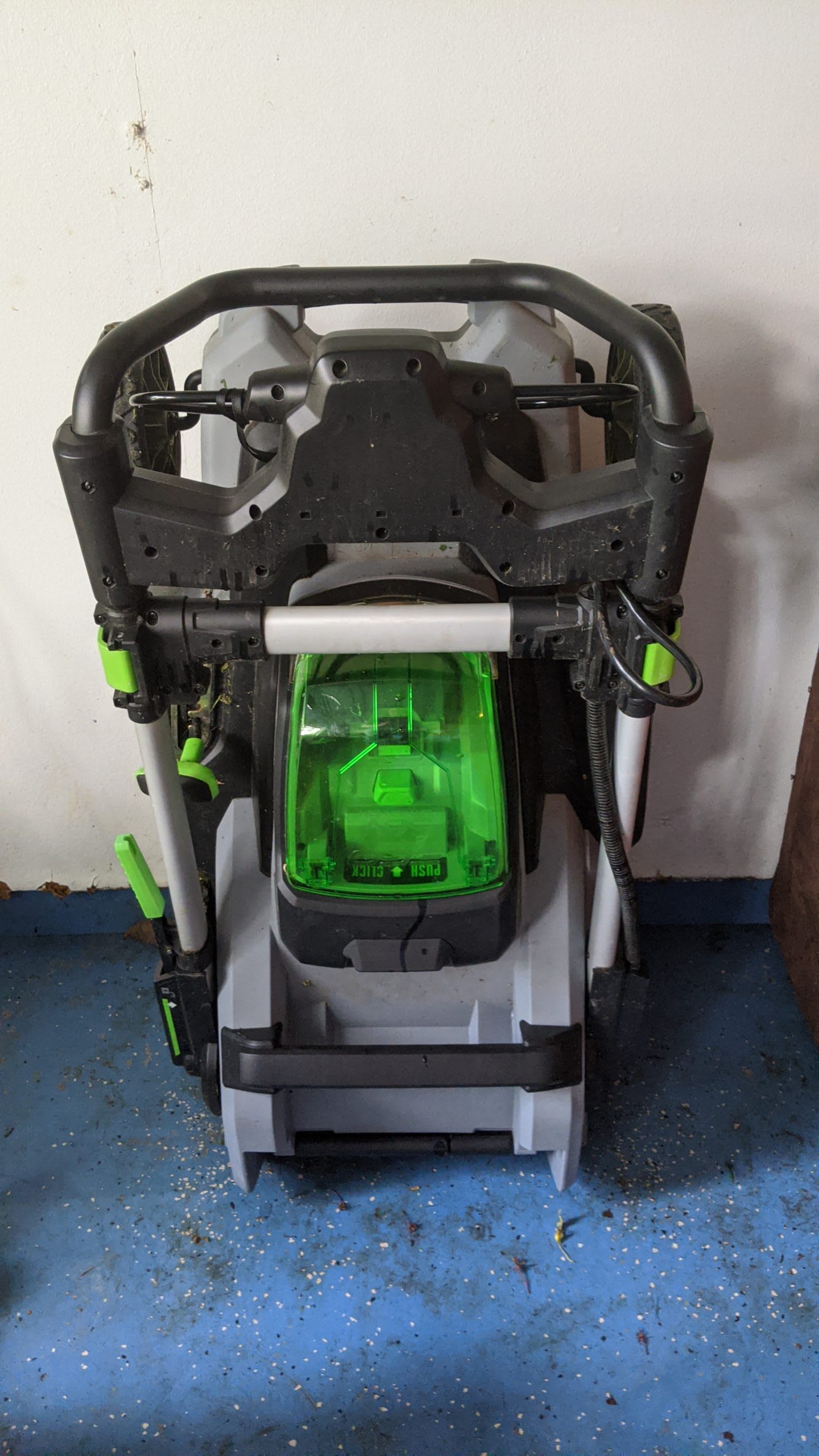 Over the past 3 years, we've actually moved three times! This means I've got to experience moving the mower to different homes by use of car trunks and U-haul trucks.
Hands down, the best part about the EGO mower (versus the Greenworks I own) is the folding capability. Not only does it fold, but you can easily move it and stand it up once it's in the folded position.
Three moves later, I'm extremely impressed with the portability of this mower. When we were shifting from rental-to-new-rental home, I was able to fold up the mower and place it into the trunk of our 2013 Ford Taurus (sedan) to go finish up the yard at the old place.
After returning back home, I pulled it out of the trunk (there are two dedicated handles for this), kept it folded and placed it up against the garage wall.
How About Mulching Capabilities?
Honestly, I'm a big fan of putting grass clippings back onto the yard. I've had better success with a greener (and healthier) yard by doing it this way.
I do remember at the beginning though adding the bag onto the mower just to see how it performed. I felt that the EGO mower frame supported the mulching bag well and wasn't too heavy [for me] to empty.
In the long-term, I always planned to mow without adding grass into a bag, but mulching the clippings directly on the yard.
In short, the side-discharge works fine for my needs.
EGO electric lawn mower vs. Greenworks mower
You happen to be reading the right article because I own both the EGO mower (LM2002 model) and also the Greenworks (25302 model).
I found out recently that there was actually a recall on our Greenworks mower. You can find out more about that on Greenworks website.
Also, Consumer Reports wrote an article about the recall which oddly affects also the Kobalt electric push mower! Hmm.. wonder if it's the same mower in different colors? 🤔
In my time with the Greenworks mower, it was less than satisfactory. Just to clarify, at the beginning of the life of that mower, it did well. Cuts were nice and even, it auto-adjusted the power to try and maximize the life of the battery.
If you're interested in the full review of the Greenworks (25302 model), take a look at that here.