Finding a good rope for your cat post will make you and your furry friend very happy. There is no denying the love cats hold for digging their claws into something satisfying.
Generally, one coil of 100 feet of 3/8 inch 100% sisal rope is best for cat scratching. Sisal rope is made from an agave plant and holds the same texture as tree bark making it irresistible to cats. It is also known for its long durability.
If you are a cat parent, then you probably have a scratching post at home. Scratching posts are terrific and ingenious creations to help your cats when they scratch their claws. Read some of the best cat scratching post here.
These scratch posts are also lifesavers for your beloved furniture. Over time, they can get pretty worn and torn. You may consider using a rope-covered one for lasting use. It is important to know what kind of rope for cat scratching post needs to be used.
Sisal and Its Features
What is the best material to use for a cat scratching post?
The most common and most popular type of rope used is sisal. When cat owners are asked what kind of rope is best for a cat scratching post, then you will always hear sisal as the favored answer.
Sisal is made from the agave plant. It is very robust, durable and tough. Scratching posts made from sisal can be expected to last for a very long time.
If your cat is fond of scratching, then ensuring that you have a good post to help your pet through is significant. Do not underestimate the small agave plant because it can produce one mean sisal rope.
Is sisal rope safe for cats?
Sisal rope is non-toxic because it's a renewable resource. Sisal rope has a texture similar to the bark of trees.
A lot of cats find the sisal rope as appealing.
As you know, this physical feature is endearing to cats everywhere. They are drawn to it and could be the answer to your scratched sofa problems.
Two Types of Sisal: Fabric or Rope?
Which is which, sisal fabric or rope? That is the question. The most common type is the sisal rope, but there are also scratching posts made from sisal fabric.
So what is the difference between the two and what is recommended to be using on a scratching post? Sisal rope is robust and can handle a lot of your cat's scratching while the fabric may not be as durable.
On the upside, if you want to appease your pets then the sisal fabric is a good choice for both scratching post or a cat scratcher.
Even with its lack of durability, your cat can have a good scratch and can shred the post with gusto. The downside is that you have to replace the fabric often as it will surely be worn out faster than its rope counterpart.
Where to Buy Sisal Rope
During our research we've found it hard to find sisal rope at our local pet shop. It may be because they are selling brand new cat scratching posts or toys with sisal rope on them. So here are some places to start looking for sisal rope for your DIY project.
Lowes or Home Depot. Or your local home improvement store.
When looking for your sisal rope it's always good to make sure that it is chemical free and safe for pet use. For re-doing your cat post you can use ¼" or ⅜" size of rope. ¼" rope will be easier to work with, but the ⅜' is more durable.
When buying online, it is important that you thoroughly check what kind of rope for cat scratching post was used. If it is sisal, then you are pretty good to go.
It is also always recommended to read reviews before making any purchase. You can also get a feel from other cat owners because they usually include their experience with the product in their feedback or reviews.
Different brands may also be considered as you look into what kind of rope is safe for cat scratching post to ensure the safety of your cats.
How To Calculate How Much Sisal Rope You Need For Your Cat Post
To determine how much rope you will need depends on the circumference of your cat post. Does your cat post get wider from top to bottom or is in the circumference from top to bottom?
Doing the math is simple with three different measurements and a little calculation.
Take a piece of rope or string and wrap it one time around the post. (If your post is wider in the middle, measure your rope here)
Hold the rope or string where it meets the rest of the rope and carefully place it along a ruler.
The measurement on the ruler is the circumference for your post.
Use the calculator to get an estimate of how much rope you will need for your cat post.
If your cat scratch post is 24 inches tall, and your sisal rope is ¼ inch thick, multiply ¼ inch to get up to 24 inches in height. So, 24 x 4 equals 96. Therefore, this means that you will need to wrap the sisal rope around the post a total of 96 times to get from the top to the bottom. Since you know that you need to make 96 full wrap arounds and each wrap 10 inches, multiply 10 x 96 to get the total length of sisal rope you will need to complete the job, which in our case is 960 inches.
Do-It-Yourself Sisal Rope
If you are up for it, why not make your own sisal rope for your cat's scratching post? There are lots of tutorials online on how to do it.
This is definitely for the more adventurous DIY person.
In a nutshell, you can start by purchasing sisal rope. You can buy this online or at your local hardware store. You can then wrap around the sisal rope on a sturdy base or post. Wide tree branches can be used as the base, but wood beams work best. You can also make a sisal rope mat if you do not want a vertical scratching post. It really depends on your preference.
Your cat scratching post does not have to be a natural color. RIT dyes are non-toxic and you can add a color pop to your room that both you and your kitty will love. Try this Ombre look!
What Are Alternatives to Sisal Rope?
Now, if you are not too keen to use sisal rope, then you could make use of alternatives. If sisal rope is not easily available, you may use hemp rope as your second rope, wood, corrugated cardboard, or carpet.
Unfortunately, sisal trumps hemp in all aspects including durability, appeal, and long-lasting effect.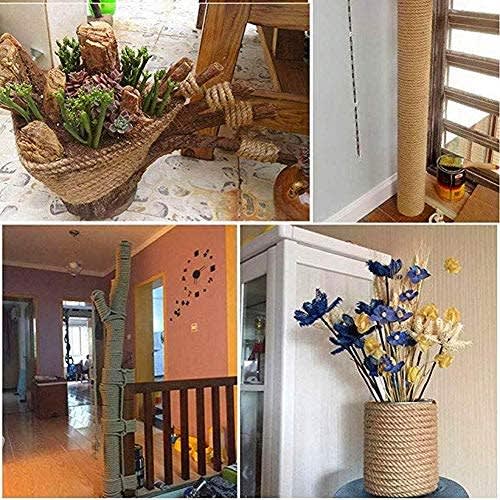 You may also try other mediums such as wood, corrugated board or carpet. These three options have advantages and disadvantages which we outline below:
Wood
Wood is a natural alternative to be used as a scratching post. It is known to be durable and can mimic a cat's natural environment; hence it is very appealing to cats.
The disadvantage is that with constant scratching on wood, it may produce splinters that can hurt the paws of your furry friend.
It is also a breeding ground for bacteria especially when exposed to water or moisture. This can be a good alternative but just be wary of its consequences.
Corrugated Cardboard
One of the cheapest alternatives to scratching post is the corrugated cardboard. ( Read the scratching post vs corrugated cardboard comparison here )
It is readily available and comes cheap. On the downside, cardboard easily shreds and does not have any credibility as durable.
If you intend to use this as an alternative, then be prepared to replace your corrugated cardboard often. Also, imagine the mess it makes with all the shredded cardboard strewn at your home? It might not be a pretty sight. The cleanup can be a total nightmare.
Carpet
Last on our list is carpet. Fortunately, carpet comes in different styles, textures, colors, and sizes. You have a lot of choices with this one that it may be hard to decide which one to go with.
You can also easily attach the carpet to different surfaces. The downside is it is not known as long-lasting. The claws of your cat can also catch on the carpet's material.
Overall, knowing what kind of rope for cat scratching post is important. The popular choice for cat owners will always be sisal rope.
You can stick with the tried and tested material, but at the same time, you can also experiment with the alternatives. Whatever you choose, the significant thing is that it appeals to your cat.
You may need to do some trial and error before you find the right material and that is okay. It takes a lot of patience to find the one that works best. Ultimately, remember that happy cats equate to happy pet owners too.
Cats are a lot of fun no doubt, but if they are not kept busy, they can do some serious damage to your home. To help keep your cat busy, and to help maintain its claws, let's help you find the best rope for cat scratching post right now.
Best Rope for Cat Scratching Post
If you are into repairing old scratching posts for your cats or even making your own, the SGT Knots Twisted Sisal Rope is a really good option to go with. Here you get a total of 50 feet of rope for a very low price, but just because it is inexpensive does not mean that it is any less durable or effective than a more expensive option.
SGT Knots Review
The SGT Knots Twisted Sisal Rope, for one, is environmentally and cat-friendly. In other words, it has not been treated with any harsh oils, chemicals, or other substances which may harm your cat or the environment around it. Being environmentally friendly and non-toxic is a very big deal here. Furthermore, SGT Knots Twisted Sisal Rope is made of 100% natural and biodegradable materials, so once you throw it out, it will degrade on its own, thus not filling up landfills. On a side note, this does come in various lengths and widths, depending on what your needs are.
Key points for SGT Knots Twisted Sisal Rope
SGT Knots Twisted Sisal Rope is industrial strength, so it should last quite a while, even if your cat scratches it non-stop.
It is very stiff and hard and used to tie boats to piers, and for many other industrial purposes too. This means that it is the perfect option for cat scratching posts.
They can scratch it for quite some time without it fraying or coming apart.
This sisal rope is also great for claws because it helps file them down and to keep them sharp.  Not to mention that it draws your cat's attention away from your furniture too. The only downside here is that the stiffness and hardness of this makes it a little hard to work with and tie down.
Twisted Sisal Rope (1/4 inch) – SGT KNOTS – All Natural Fibers – Moisture/Weather Resistant – Marine, Decor, Projects, Cat Scratching Post, Tie-Downs, Wicker Chair, Indoor/Outdoor (50 feet)
NATURAL SISAL ROPE – Stiff and sturdy twisted sisal rope made in Brazil, from Agave sisalana fibers. The perfect 100% natural choice for heavy duty indoor and outdoor applications. Great for situations that require a bit of stretch.
ENVIRONMENTAL FRIENDLY – 100% biodegradable organic, untreated fibers. No oils, chemicals, or artificial agents added during the manufacturing process.
INDUSTRIAL STRENGTH – Compared to other natural ropes such as Manila, all-purpose sisal rope is stiffer and able to withstand harsh conditions. Resistant to moisture, abrasion, and all weather conditions. Sisal is the preferred natural fiber for all projects, from marine-bound bindings to tie-downs, repairing/crafting a cat scratching post, and fixed outdoor uses.
WIDTHS and LENGTHS – SGT KNOTS Natural Sisal Rope available in lengths of 10, 25, 50, 100, 600 and 1,000 ft and diameters of 3/16, 1/4, 3/8, 1/2, 3/4 and 1 in.
VETERAN OWNED and OPERATED – Just like the Marine Corps, SGT KNOTS is committed to being the best of the best. We continue to live by the motto, Semper Fidelis—Always Faithful. Our loyalty to our customers is what makes us who we are, and the reason we continue to grow in popularity and product offerings. We promise to maintain the strength and consistency of our products. We also pass down our bulk savings to our customers.
SGT Knots Twisted Sisal Rope
Pros
100% natural and biodegradable
Very tough and durable
No harsh chemicals used
Sharpens and shortens cat claws
Cons
A little too stiff to work with easily
A little difficult to tie down
Recommended Buys: Best Rope for Cat Scratching Post
SGT KNOTS TWISTED SISAL ROPE
Very tough and durable
Sharpens and shortens cat claws
100% natural and biodegradable
T.W Evans Cordage Twisted Sisal Rope is another good option to go with for cat scratching posts. Here you actually get a full 100 feet of it for the same price as the 50-foot long rope we just reviewed above, making it a super cost-effective option to keep in mind.
Review
For one, the T.W Evans Cordage Twisted Sisal Rope is made to be cat and eco-friendly. Just like the above option, this rope is made with 100% natural fibers.
They are also biodegradable, which means that you won't pollute the planet once you have to throw it out. At the same time, there are no harsh oils, chemicals, or other such toxins used to make this rope.  Making it totally safe for your cats to scratch and chew on all day.
Buying products that are eco-friendly and animal safe is quite important after all. Keep in mind that T.W Evans Cordage Twisted Sisal Rope is a little thicker than the above option.
On one hand, this does mean that it should last a bit longer and that your cat can scratch it a whole lot before it needs replacing again. On the other hand, being so thick means that it is a little hard to work with when you are actually trying to put in on the cat post.
Now, also keep in mind that this stuff frays pretty bad and once it wears down, it will make quite the mess in your home.
T.W Evans Cordage 23-410 3/8-Inch by 100-Feet Twisted Sisal Rope
Sisal is a natural fiber rope
Biodegradable and economical fiber
Oil and chemical free
Safe for use with pets
Working Load 180 lbs
T.W Evans Cordage Twisted Sisal Rope
Pros
Thick and durable
100% natural and chemical free
Very low price
Sharpens and shortens cat claws
Cons
A little hard to work with
Makes a bit of a mess
Another good option to go with, West Coast Paracord Premium Sisal Rope works great for cat scratching posts, plus it is perfectly fine for many other purposes too. Here you get a full 100 feet of it for a very low price.
It's quite similar to both of the above options we looked at, but still great.
Review
If we are talking about the best value for the money, this is a great choice to keep in mind. It's ¼ inch thick and you get 100 feet of it. West Coast Paracord Premium Sisal Rope is also made with 100% natural fibers, plus it contains no toxins, harsh oils, chemicals, or other such things. It is 100% cat and environmentally friendly. The whole thing can degrade back into its original state once used up, this not creating any additional waste for our planet.
Now, just like with the other options we looked at, this is pretty stiff, so getting wound tight around a scratch post can be a bit of a pain in the butt. On the other hand, West Coast Paracord Premium Sisal Rope is also very durable due to being so stiff. It should realistically last for several months before needing replacement, plus it does a good job at keeping your cat's claws off of your furniture.
This rope is also a good option when it comes to other DIY home projects, although beware that it will fray quite a bit and thus make a mess after your cat has scratched it for a while.
1/4-inch Premium Sisal Rope – 100 Feet – Pet Friendly
This all-natural, environmentally friendly rope is pet friendly
Great for cat-scratching posts, cat toys, dog toys, and much more
Sisal rope is strong and durable with resistance to UV damage and comes with a little flexibility
Can be used for other DIY projects as well such as wall hangings, tie-downs, nautical and outdoor use as well
This is a 100 foot length of 1/4-inch sisal rope
West Coast Paracord Premium Sisal Rope
Pros
Very durable
Lots of rope for a low price
Cat and environmentally friendly
Cons
Frays quite a bit
Stiff and hard to work with
Conclusion
If you are looking for sisal rope to make your own or repair an old cat scratching post, in all honesty, all of the above options are worth the money. They are all quite similar, have the same pros and cons, and they will all help keep your cat occupied too.
Cats love to scratch!  So be sure to provide them with the best sisal rope for cat scratching post when it comes time to replace the rope.