Solar lights are an easy and affordable way to transform your home's outdoor space into something magical, while still being energy efficient.
Outdoor solar lights are a new technology that harnesses the power of the sun to create lighting outdoors, even when it gets dark. As compared to the conventional kind of lights that require electrical hook up, these lights are more efficient and far easier to set up.
We've done some hard work for you. We've compiled everything you need to know about outdoor solar lighting. With this guide, you'll be able to determine what types are best for you and what features are most important in your decision-making process.
How do outdoor solar lights work?
Outdoor solar panel lights are simple. Their foundation is called the photovoltaic panel, also known as the PV panel. This collects the solar energy from the sun by absorbing the sunlight it gives off during the daytime. Once collected, the outdoor solar energy is transformed into electric and then stored within the solar panel battery.
You might not even realize that you've seen all kinds of these lights – on the streets, in an outdoor solar garden, backyards, and even wall lights. Using a renewable source of energy, these lights come on automatically.
The work of running wire for lamp posts, deck lights, and driveway lamps in the yard are a thing of the past. Solar lights are easy to install and the perfect addition to add lighting around your home.
Once the sun sets, the best LED solar lighting can be turned on for whatever your lighting needs may be. As long as you set the light up in an area where it gets plenty of sunlight, you'll be able to use energy from it for years to come!
In addition to the PV panel, the best lighting feature is its controllers. In many cases, these are designed to work as smart switches to turn the light on whenever it is needed.
Do outdoor solar lights need direct sunlight?
Many people are under the impression that the best solar lighting needs to be located under direct sunlight at all times to work. While outdoor lighting in places with bright, sunny weather like Palm Springs or Sedona will certainly be working at their maximum potential, you can still enjoy the power of solar lighting at home, no matter where you are.
It's just a matter of finding an area that gets ample sunlight to put the PV panel. You can wire a PV panel from a better spot like the roof into a more shaded area like a garden to harness the sun's power.
Lighting in a cloudy area
If you happen to live in an especially cloudy or shaded area like Portland or Seattle, you may have trouble finding outdoor solar lights that can perform overnight.
This might not be the perfect setup for lighting, but if you have a light with higher wattage and will turn on only when needed, it's possible. This can be when modes on different lighting will help after installation, tweaking the location for the perfect situation.
What Should I Look For When Buying Solar Lights?
Buying these energy solutions can prove to be a challenge, however, since there are so many options available on the market. It's not just about the most bright light or how many modes the light can do.
Since we've covered the main benefits of using outdoor solar lights, let's explore the top considerations to keep in mind during the buying process. From functionality and brightness to smart features and value, here's what you need to look for in the solar lighting.
It's great to have the variety, it can make narrowing down the options more difficult for new buyers. Some outdoor lighting systems are durable and hold up in all conditions, while others are prone to break during the summer season.
Designed functions
The outdoor lighting functions are, of course, the foundation of the outdoor solar LED lights. If you're looking for additional functional modes on top of that, be prepared to pay a higher price.
Most standard LED lights will last between 8 hours and 10 hours, but you can certainly find longer lasting options at a higher cost.
Ask yourself what function your solar lighting should come with.
Do you want outdoor solar string lights to create a charming atmosphere in your backyard?
Do you want LED solar lights that are designed with motion sensors that turn on automatically to warn any possible intruders?
Would you like installation to be mounted on a wall or on the ground?
These are all important considerations to make before checking out.
Effects at night
Additionally, do you want any lighting effects available to you, or are you just looking for standard lighting? The best outdoor solar LED options typically give off a cooler, brighter light that lasts longer, while solar powered garden lights and string lights are more appropriate to create a cozy warm glow at night.
Take note of the type of solar lighting bulb used in the LED lamps you're considering. Many of the best options on the market today use LED with different modes.
If that's the look you want, your shopping will be easy. If you want the look of an incandescent bulb, look for lights labeled "soft white lights" or "amber glow." These utilize tinted covers to slightly alter the warmth of light.
Brightness at night
Most solar powered options on the market today use LED bulbs, known for their brightness and strength. Solar light output is measured by lumens and can range from a soft 35 lumens to a bright, powerful 700 lumens, depending on the lights best.
If you're shopping for security lights, you want a bright light and something powerful. Another thing that comes to mind is if it's wall mounted or not.
The more lumens you can get, the better. On the other hand, if you prefer gentle outdoor deck lighting to set the mood for a charming evening, you might prefer a lower output.
What solar lights are the brightest?
Despite the brand, the brightest and best outdoor solar lights will offer the highest output and most concentrated solar lighting power, typically a spotlight.
Having solar lighting on the ground near your driveway or a pathway will offer enough brightness at night.
Don't worry too much about the absolute brightest lamp for the yard, pathway, or patio. Focus on your lighting needs and what light comes with those features.
What are the highest lumens for solar lights?
Some of the best powered solar powered lights offer over 1,000 lumens at a full charge. However, that much brightness isn't always necessary.
Most people agree that 100 lumens is bright enough to light most walkways or a patio at night.
Keep in mind, lumen brightness will also affect battery life.
Battery life
Both the type of battery and the capacity of the battery are important factors that play into how well a solar light will work. There are two main types of batteries:
Those that require direct sunlight to fully charge
Those that can charge with partial sunlight
You should also consider how much power capacity the batter holds if you want sustained light for long periods of time. A higher quality light will offer an easy to install battery for replacement.
If you're looking for solar light security, for example, you'll want to ensure the solar lighting battery can last from dusk to dawn.
Do outdoor solar lights require batteries?
Yes, solar lights do require batteries since an LED light is being powered. The best part about the batteries though are that solar lights offer a convenient method of charging – the sun.
Even some of the higher power wall lights with bright light will have batteries that recharge with the sun. A battery for bright solar lighting may be designed to hold a full charge, enough for a full night of light.
Outdoor solar smart features
Today, you can find outdoor solar lights with all kinds of intelligent features programmed in.
For example, some lights come with a motion sensor that can detect if someone is on your property at night. Then a friendly path light comes on to warn them.
You can also find that some lights offer an intelligent microprocessor that can moderate the output of light based on data gathered from weather patterns. This can turn on your lights in a rainy, not so perfect day.
You'll find that the best options are the ones with intelligent features, but these will come at a premium price. However, most customers find it to be a worthy investment because of all the benefits they enjoy. A self-regulating, weather-based light, for example, would preserve solar energy for longer.
If intelligent solar lights are in your budget, they're at least worth a consideration.
Value
With any solar panel lights, you want to get substantial value for what you pay. If you're forking out a lot of cash for a new set, you want to know that you have 26 feet of coverage and motion sensors on all of your bright bulbs.
Just realize that even the best and most expensive products will have trouble performing if they're located in areas with dim sunlight or short periods of natural daylight.
Do outdoor solar lights work in winter?
The best outdoor solar lights will work in all seasons with an LED lamp. Depending on if the lights are wall-mounted or around your yard will determine if the small solar cells will need to have snow wiped off.
This is one thing to remember with the installation of solar lighting, in order for them to recharge, they need access to an energy source. If they are on the ground, they are likely to be covered in snow during winter.
Benefits of Outdoor Solar Lights
If you're new to the world of solar panel LED lights, then you probably have questions about how they work and benefit homeowners.
There are plenty of advantages when it comes to the best solar lights. To introduce you to these benefits, we're listing them below:
Environmentally Friendly
Outdoor solar lighting energy is an incredibly environmentally friendly option to brighten your outdoor spaces. Solar powered options produce sustainable electricity by capturing energy from our most renewable energy source: the sun.
Because of this, they play a big role in the reduction of our global carbon footprint. By gradually shifting from a traditional model of power to a solar powered model, we can make big leaps towards that end goal.
The more people adapt to these kinds of solar outdoor lights, the more we can slow down the rate at which we're exhausting our planet's resources.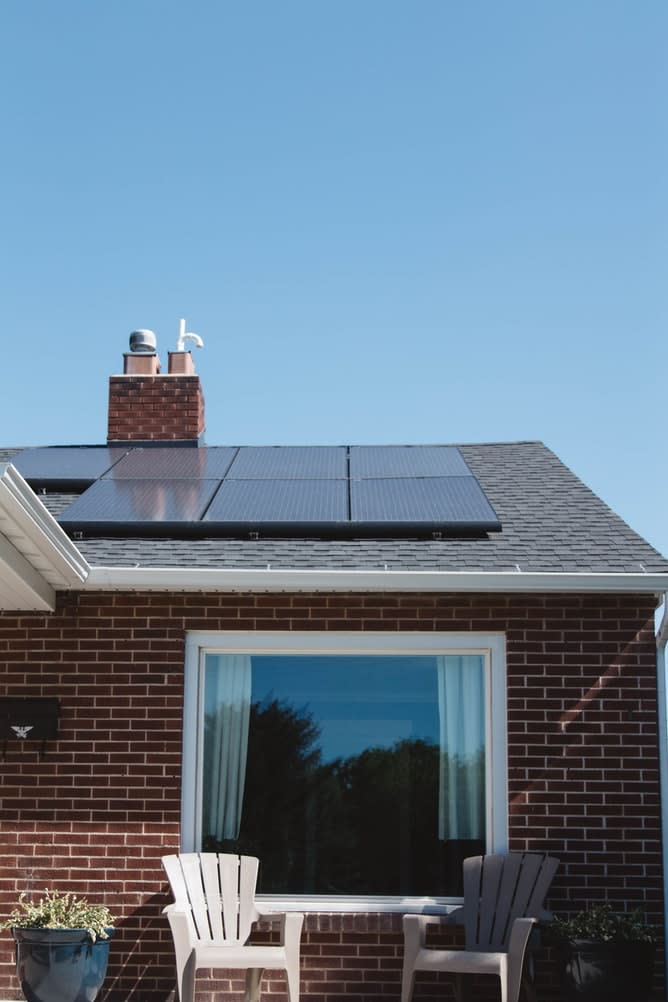 Cost-Effective
Powering lights outside for 8 hours or even 10 hours can cost a lot when you're relying on traditional electricity. But with one of these systems, you can power for hours on end without making a dent in your utility bill.
Solar powered LED lights may cost more as an up-front investment, but they will quickly save you money on each monthly electric bill.
The money you save over just a few months, the more you will be able to make up for the initial cost of the solar panels!
Low Maintenance
Another great aspect is that they're very low maintenance, which means less work for you! You don't need to replace any wires, as the solar powered options don't have any! They're also weather resistant (not waterproof) so you don't need to worry about them getting fried by a storm or getting toppled by the wind.
While you'll want to still do a few annual check-ups and cleanings throughout the year, it doesn't take much more to increase the lifespan of your outdoor solar lights hours.
Options to Choose From
There's a wide variety of solar lighting styles that you can choose from when you're in the market to buy the best product:
If solar string lights are your thing, they'd look great hanging above your patio or porch area. These are fun to install and offer a friendly atmosphere, but not as bright.
Maybe you're more into the solar garden look. You'll be able to choose from numerous different shapes, sizes, functions, and even colors as you shop!
Pick between aesthetic versions and functional versions as well.
The best solar light you'll find is one that meets your needs, so just keep that in mind as you sort through the variety of options.
Unlimited Power
Power sources like standard electricity will inevitably go out every once in a while. Whether that's because of bad storms or an accident, a power black out isn't uncommon.
The good news is that the best solar outdoor lights have an unlimited source of power that won't run out as long as you have access to sunlight and a good battery!
Convenience of Installation
The best solar lights are also convenient for installation. Also, the motion sensor located on LED solar path lights will help you find your way as you come back home when dark.
It's also convenient to have a source of light available even if the rest of your electricity is out. While your indoor lights might be suffering, your outdoor solar garden lights or string lights will provide long-lasting light around the yard.
Solar lighting saves each month
Solar lighting best serves those who don't want to spend extra each month on the electric light bill. Light around the home will be powered on the energy of the sun alone, so you won't be adding anything on top of the bill you already have for indoor electric light.
It's also great for people who don't have much experience setting up traditional electric lighting. Since there are no power hazards like cables to install, there's little to no setup required! Solar powered lighting is protected behind a layer of plastic that seals them in so no water can intrude and cause any damage.
Kinds of Outdoor Solar Lights
To create your personal outdoor paradise, determine what kind of capabilities you're expecting your solar lighting to offer. For example, if you want a security light that will likely be one with greater lumens and a higher price tag.
On the other hand, if you want ambient garden solar powered lights, they'll be labeled as "soft white" and can be found at more affordable prices.
Here's all you need to know about the most common types. Remember, the best solar light has the functions you need!
Path Lights
Outdoor path lights are a wonderful way to light the way back home without increasing your electric bill. A small motion sensor on each light will deter when a person is nearby and light up in order to help them see the path clearly. Because they'll only be on when necessary, they'll reserve solar power for longer periods of time.
Most path lights are easy to install (unlike installing one on a wall) with stakes that simply get stuck in the ground next to the stone path or driveway you're illuminating.
Garden Lights
Garden lights add ambiance to any outdoor area. You can find solar-powered outdoor planters, 26 feet solar string lights, and even small rock-shaped lights to use along with your landscaping. Adding any solar garden light will make any area look more vibrant and certainly more charming.
The most common ways to use solar panels for garden lights is to place them either on the ground or mounted on the roof to maximize their exposure.
Fence Lights
Fence lights serve as a wonderful security measure, acting as motion sensor lights to warn anyone nearby that the residents are home and aware. They can be mounted to the top of the fence posts and pointed in any direction you need to achieve the perfect security lighting.
Are outdoor solar powered lights any good?
Solar powered outdoor lights, depending on the brand and type you buy, can provide hours of light with little energy use.
For example, many people love the long lasting brands like Urpower Solar or Solpex. Your favorite will depend on your unique needs.
How long do outdoor solar lights last?
On a full charge, your system should last between 8 hours and 10 hours. This number may vary based on where you live and how much light your solar panels get access to.
Are solar lighting systems waterproof?
They are weather resistant, but they aren't fully waterproof. Harsh winds and dangerous conditions can knock over any outdoor lighting, and solar is no exception. However, the design of solar powered lights is such that normal wind and rain won't seep in to damage the battery.
Bottom Line
Solar lights illuminate your outdoor space and provide an unparalleled level of vibrance and charm. Conversely, they also serve as great security features and pathway lights as well.
These lights best serve those looking to add to your outdoor aesthetic, add an extra layer of security, or simply looking to light the way home without a higher electric bill.
We hope this guide helped you find the best solar light system for your home.