In case you have not noticed, cats love sleeping and scratching. However, if letting them sleep on your bed is not an option but providing them with a flatbed bores them to death, then save a spot in your house and build them a tower to play, chill and sleep instead. Sounds fun and exciting, right?
You can easily build a cat tower from scratch:
Fist you will create your design.
Gather these needed materials plywood, drill and wood screws, wood glue and adhesives, electric stapler, carpet, utility knife and blades, table saw, jigsaw, and a handsaw, hammer, nails, PVC pipes, sandpaper, and sisal rope.
Cut wood and PVC pipe.
Build base and check sturdiness.
Attach carpet.
Assemble vertical post with sisal rope.
Enjoy your DIY cat tree!
Although there are preassembled cat towers available at pet stores, it may cost you too much. In case you do not know, you can actually save money by learning how to build a cat tower from scratch!
Why Do Cats Need a Cat Tower?
Cats are charismatic creatures, which, just like us, get bored too. This is among the reasons why they leave home often for a day or more. They also need to get some fresh air and socialize with other cats.
Generally, cats choose their home or place to dwell in. They are also not as playful as dogs are, but just the same, they also need to play and have fun with their person or on their own.
Building them a cat tower means giving them the chance to climb, play, scratch, and stretch, which helps keep them happy and healthy. Who does not love a not-cranky and sick-free cat?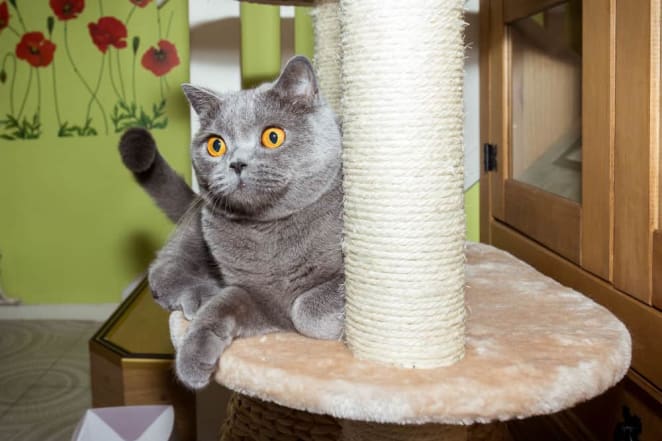 How to Build a Cat Tower from Scratch?
As mentioned, cat towers readily made at most pet shops can be way beyond your budget.
But not wanting to splurge on expensive store-bought cat towers does not mean we would settle for anything less for our felines. Of course, we can also create a stylish and equally relaxing cat tower from scratch!
If you need ideas, then you can ask pros from pet shops to help you decide on what design suits you and your cat as well as what materials you need to buy.
You can also check out tons of websites that provide patterns with images to guide you through the whole process. We are sure you will find one that is simple to build.
Create your Design
We know that you want to give your cat the tower of his or her dreams that you want to storm through pet stores and hardware shops immediately to go shopping for the materials.
Hold your horses! First things first–draft a design. Of course, you want it to catch your cat's attention; otherwise, all this hard work will be for nothing! So, these are things you need to consider to make that possible.
Choose a style and colors that suit your cat's gender, size, and personality.
Ensure that the finished product will fit a spot in your house perfectly. Choose the perfect location and get its measurement.
Make your design simple, especially if you are a first-timer. You can get ideas from the Internet if you do not know where to start.
There are various designs you can choose from and among the simplest choices is one made from wood and carpet. If done properly, then this not-so-fancy cat tower will tick all the necessary boxes. Below are the easy steps to follow.
Prepare your Tools and Materials
The things you'll need will be based on your design plan. Make a checklist of the tools and materials before heading out to a pet store or hardware store. Here are the things you'll need for our wood and carpet cat tower:
Plywood
Drill and wood screws
Wood glue and adhesives
Electric stapler
Carpet
Utility knife and blades
Table saw, jigsaw, and a handsaw
Hammer and nails
PVC pipes
Sandpaper
Measure and Cut
Following your design plan, cut the plywood and lumber to be used as the base and platforms to their appropriate sizes using a hand saw.
Dimensional lumbers are perfect to use for support. After you do all the cutting, you can smoothen the rough edges with sandpaper.
Build the Base
Ensure to build a sturdy enough base. If you want to make it extra thick, then stick two sheets of plywood using wood glue. If you are building a tall cat tower, then you will need to create a larger base.
Cover the Base and Support
Cut the carpet a few inches larger than the size of the base. Cover the base's underside with the cutout carpet and fasten it using a staple gun or wood glue. Do the same with the support, which is the PVC pipes in this design.
Assemble the Vertical Support and Base
Cover the vertical support, which is the PVC pipes, with carpet. You may also wrap one or two in sisal rope for cats who love to scratch.
Attach these carpet-covered PVC pipes to the base using nails, wood glue, and screws. These will hold the platform.
Keep referring to your design plan as you continue attaching the vertical support and the horizontal perches accordingly. You will immediately know if there will be adjustments needed or issues to be fixed as you go on constructing the tower.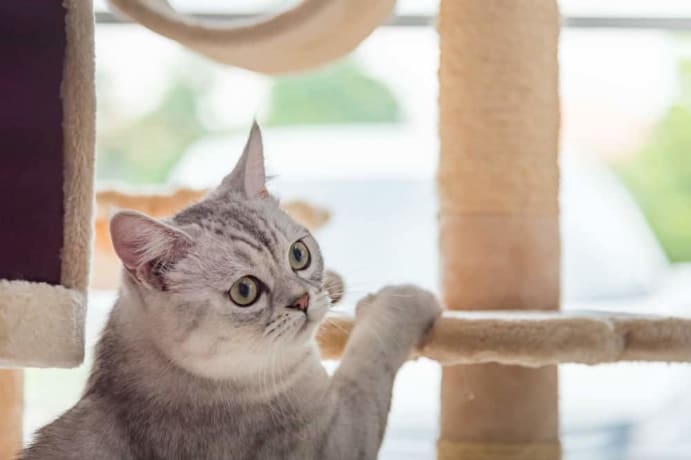 It All Boils Down to Preferences
It is important to pay attention to your feline's behavior for some time. Observe them closely especially if your cat has been trying to make himself or herself feel at home.
If they look bored and cranky most of the time, then try to give them toys to play with or a comfortable bed to sleep on.
If that does not seem to please them, then try putting up a cat tower with additional toys that you can hang around. In that way, your cats will have privacy anytime they need it. They can also sleep and scratch all day if they want.
Whether you choose to do a DIY cat tower or purchase the ready-made ones, your preference will always matter.
Keep in mind that knowing how to build a cat tower from scratch not only saves you money but also allows you to choose the materials, style, colors, dimensions, and design that will surely have positive effects on your cat's personality.
After all, only you, the cat owner, knows what is best for that little munchkin.