So, you've been looking around at Troy Bilt mowers and you notice they have a great selection of riding mowers. The question is — how do you decide which to consider?
It really comes down to certain features and will you be using the equipment for a commercial purpose? These are things to consider.
For these review, we're going to look at a great product of the Troy Bilt family — the riding mower.
Who Makes Troy Bilt Riding Lawn Mowers?
There's a company called MTD Products that has a variety of different sub-divisions below them – Troy Bilt is one of them.
Original acronym comes from Modern Tool and Die company (hint: they made tools and dies). It was a family owned and private company.
Interested in skipping the reviews and seeing buyer ratings? Click here.
​What Types Of Riding Mowers Does Troy Bilt Offer?
The way that Troy Bilt decided to go with naming their equipment is a little different than what one might expect. Instead of going the traditional route of riding lawn mower, they wanted to keep things unique.
So, when referring to one of their mowers, it's called a lawn tractor. You may also see it called a rider, which is common in some areas. Or, depending on which company you're talking with.
Their main series includes different options: Pony, Bronco, and Horse XP.
Let's have a look at the differences between them.
PONY™
7-Speed Riding Mower (aka lawn tractor)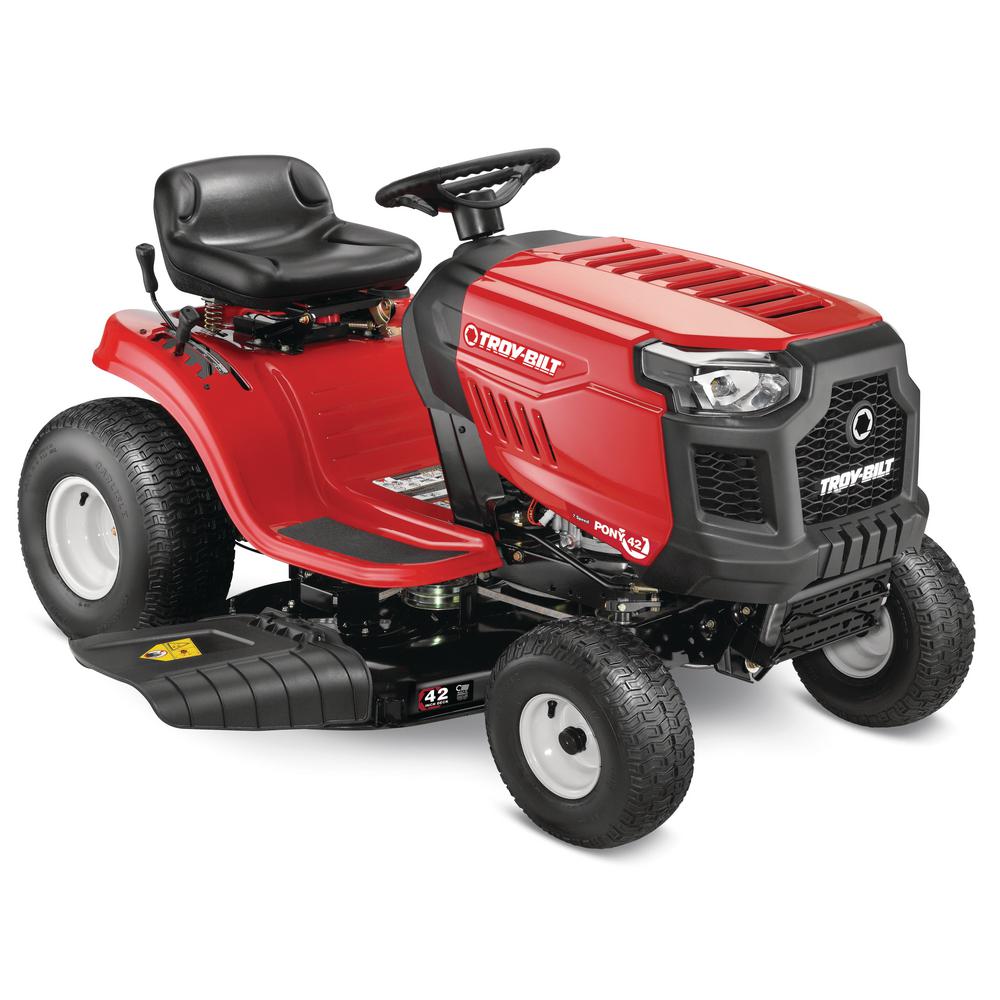 This thing's got a Briggs and Stratton engine, plenty of power, a steel frame and axle. Quality really shines with the Troy Bilt Pony™ mower.
One of the great features here: maintenance free ball-bearings. Take care of a large yard with some of the added accessories like a mulch kit, bagger, or a trailor.
A great lower end model. Have a look at some of the specifications below.
42″ Mower Deck
15.5 HP Engine
2-Yr Limited Warranty
Mulch Kit/Rear Bagger (optional)
Holds 1.3 Gallons Fuel
Cup Holder!
No Deck Wheels
Some other features: rubber foot pads, 18-inch turn radius, headlights, adjustable seat
BRONCO™
AutoDrive Riding Mower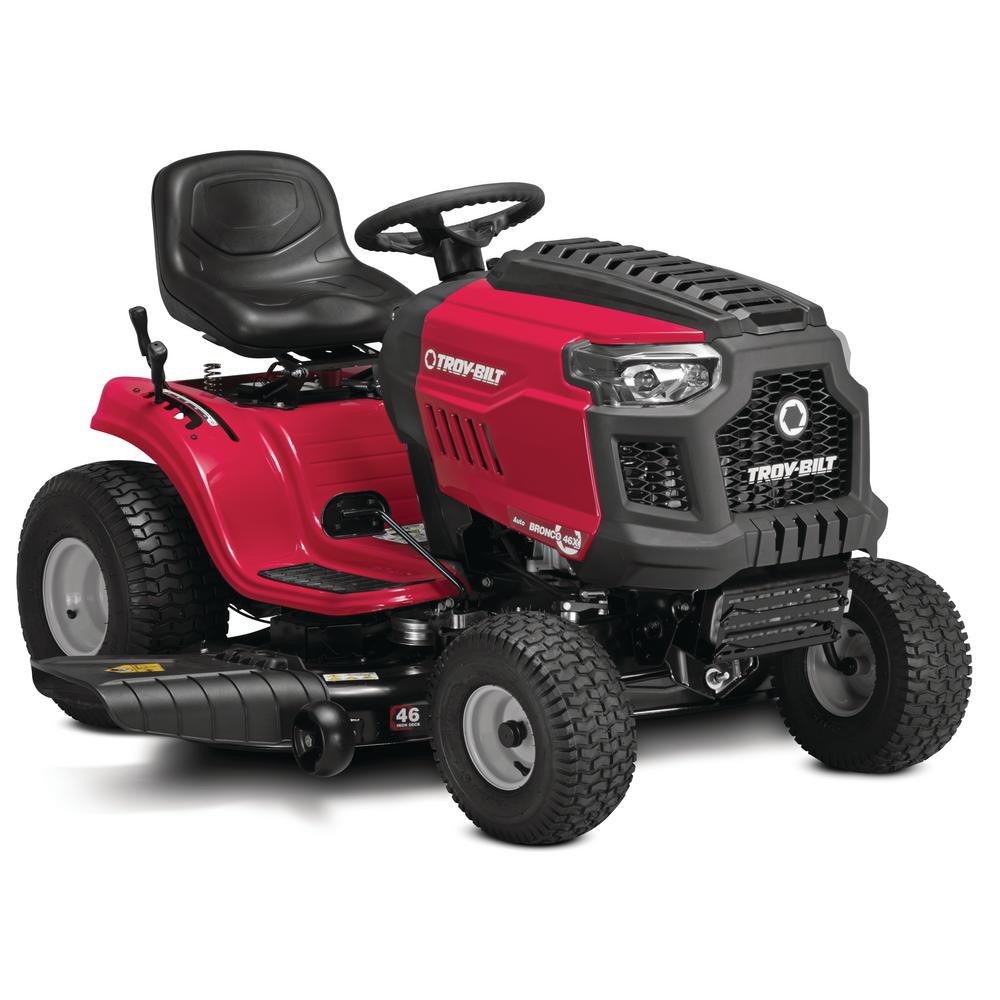 The Bronco™ is built with a premium Kohler engine housing 17 horsepower. It uses a foot-pedal transmission that helps the mower glide across the grass with ease of use.
A tight turning radius with reverse mowing makes this mower unique. You can trim close to bushes and other landscaping areas.
Also, if you're looking for something that's easy to start and responsive, you might consider this as an option.
42″ Mower Deck
17 HP Engine
2-Yr Limited Warranty
Mulch Kit/Rear Bagger (optional)
Holds 1.3 Gallons Fuel
Cup Holder!
Deck Wheels
More features not listed above: rubber foot pads, 18-inch turn radius, headlights, adjustable seat
SUPER BRONCO XP™
Hydro Riding Mower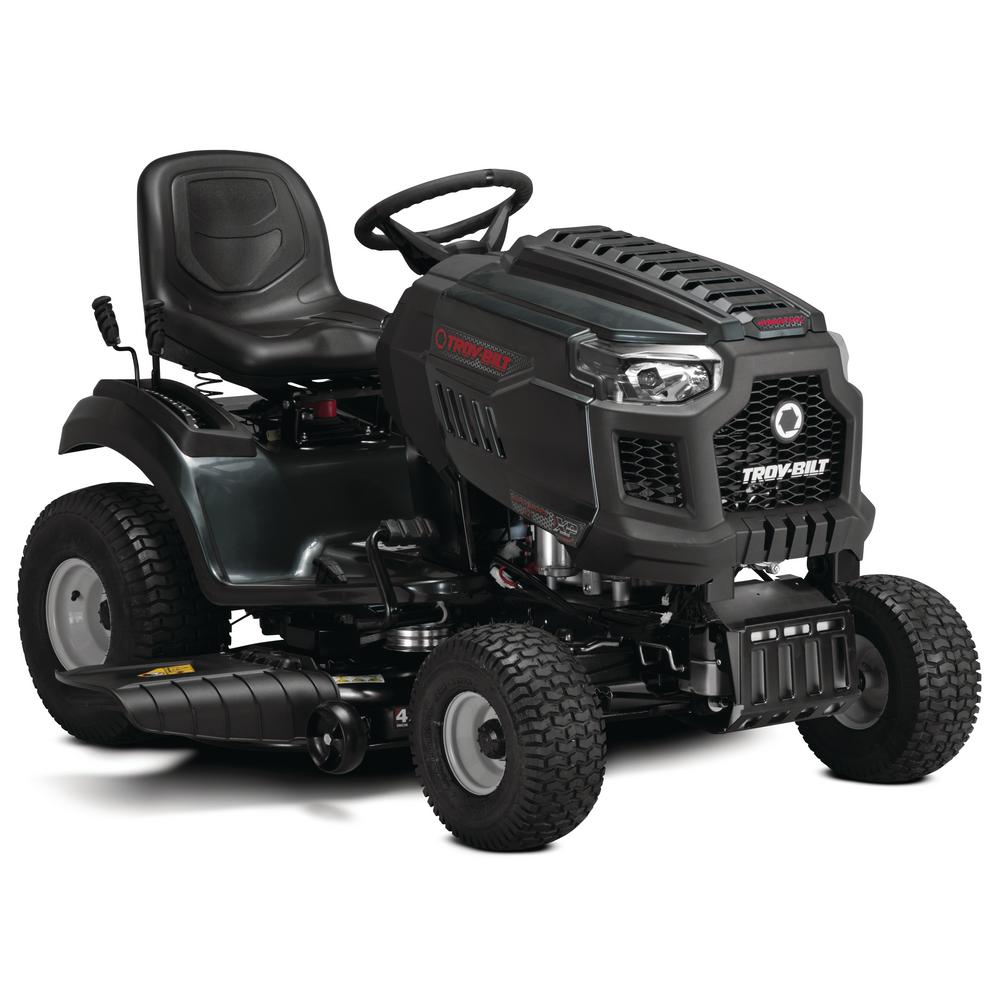 Not only does this mower look sleek, but it's really packed with features! Below are some of the best features that set the Bronco™ apart from the rest of the bunch.It's equipped with a deck wash slot to allow a hose connection for easy water clean-up.
Attach the hose, let the blades run for a minute or two and watch the mower get cleaned! The transmission is what's known as a hydrostatic transmission. The lever is actually located on the side of the mower allowing for an easier, even more responsive drive.
What else? The front axle is made out of pure, cast iron for added longevity of the mower. Yep, that's right, cast iron – not steel.
46″ Mower Deck
20 HP Engine
2-Yr Limited Warranty
High Back Seat
Holds 2 Gallons Fuel
Cup Holder!
Deck Wheels
What Types Of Engines Are In These Bad Boys?
Troy Bilt consistently stays with Briggs and Stratton as well as Kohler engines. Some of the Kohler Courage engines used are premium engines designed only for their mowers. There is an exception: on one of the mowers with a smaller cutting deck, it houses a 420cc Troy Bilt branded engine.
Some features of the Briggs and Stratton engine include maintenance free electronic ignition, foam pre-cleaner air filter to extend the engine life, and cast iron cylinder sleeve.
For the Kohler engine, you can expect: user-friendly maintenance, quiet and smooth operation, high power performance, easy dependable starts, reliability, and long life design. Twin cam and single cylinder for more horsepower and better displacement.
Different models means different fuel capacities. Typically, for the higher end models, you're going to get a larger fuel tank. I think that's fair, right?
Do These Mowers Offer Different Cutting Widths?
The mowers that you've read about do offer different size cutting widths. And, for the record, they are all bigger than the Troy Bilt 30 Riding Mower (for neighborhood style homes).
The range for the mowers are anywhere from 30″-54″. Whether you're looking for a smaller, more convenient mower, or a larger lawn tractor for 2+ acres, Troy Bilt has you covered.
Generally speaking, for smaller yards, a smaller deck is better. But, this may not be the case for your needs. Think about what you will be using the mower for.
Are you going to be mowing around a shed or many buildings?
How Easy Are They To Maintain?
Well, not all the mowers can be as cool as the Horse XP™ which has a port for your hose to clean it, but the mowers are designed to be easy to wash. The outside covers of the mower have ridges to allow water runoff and to keep grass from containing itself while you're cutting.
Aside from the washing aspect, all of the engines use many different maintenance-free components including electronic ignitions and easy to access oil check and fill areas. Another plus, the Kohler engine provides leak-proof operation and easy oil change.
You can also consider adding an additional twin bagger to help with cleanliness. The mowers have a side-discharge system to spit the grass away, but if you really want a clean yard, think about the bagger (sold separately) accessory.
Are There Any Accessories I Can Use?
Specifically for the 42″ and 46″ decks, there is a twin bagger used to collect extra clippings. This is the same add-on used since the 2010 models of the Troy Bilt mowers.
Here are other accessories you might be interested in:
Tire Chains
Snow / Dozer Blade
Mulching Kit
Tow-Behind Cart
Where Can I Find Troy Bilt Riding Lawn Mowers For Sale?
Troy Bilt lawn mowers are available at many local and online retailers such as Lowes, Amazon, and Home Depot. There are other places you might find the Troy Bilt family.
If you're interested in finding out more about their equipment, you can check out Troy Bilt riding mower reviews on Amazon. It's a great place to see what others are saying that have been using them for an extended period of time – the good and the bad.
Summary & Conclusion
I have to admit – these mowers all have competitive features and that makes them worth talking about and reviewing. The one model that stood out to me here (and not because of the cost) is the Horse XP™. It's got an absolutely great feature set and the fact that users compare it to a zero turn mower actually means something.
Plus, when I want to relax and mow, I've got a high back seat to lean on and a cast-iron axle for when I fall asleep because I'm so comfortable. Of course I'm kidding, but I hope you get the point!
If all of the mowers listed here seem like they are a bit too much, you might consider purchasing the best selling Troy Bilt 30 Neighborhood Riding Mower which has a 30 inch deck and used for smaller, more average sized yards.