Finding an affordable rider like the new Ryobi electric riding mower was not even in the cards it seemed, until now. Meet the Ryobi RM480e, an all electric machine that will mow up to 2 acres or 2 hours, depending on which way you want to look at it.
Moving over to the Greenworks 40-Volt push mower has really shown me the wonders of using electric equipment around the yard.
Considering my electric push mower journey, it's been exciting to go cut the lawn now because there are no more trips to the gas station, oil changes, spark plug testing, or other common routine maintenance. Combine all of those things with the ability to start my mower with the push of a button and it's definitely worth the cost.
Fully Electric 48-Volt Riding Lawn Mower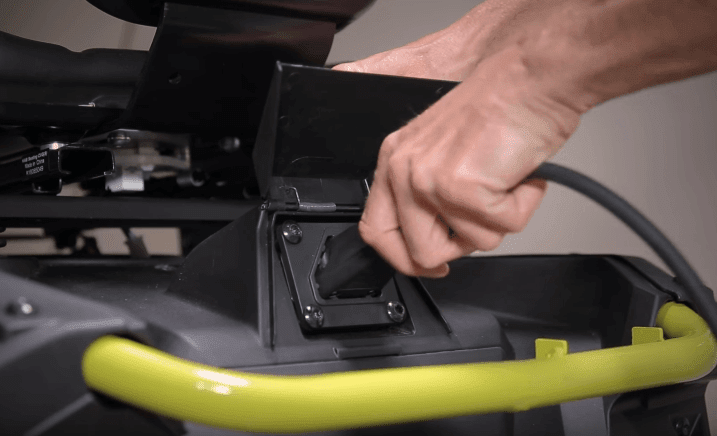 Think about the class of a Nissan Leaf, but for riding lawn mowers. The all-electric car runs on nothing but pure batteries, is the best-selling electric car, and boasts it's "super quiet and efficient". I feel like this mower will meet all of the same criteria, but will also be a best-seller.
With the reputation of Ryobi and their selection of electric push mowers, this riding mower could effectively be the new, go-to electric pick for yards that aren't huge, but require a rider to get the job done.
Let's Talk About Clean, Electric Mower Power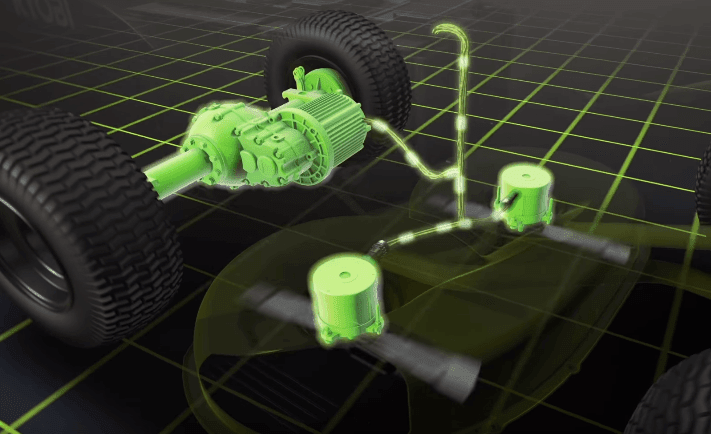 No Gas, Zero Emissions
For Ryobi, they have been in the industry for a very long time. They have really worked to get their electric tools and equipment fine-tuned and fit for an average consumer. That being said, it's nothing new that this mower uses no gas and has zero carbon emissions.
LED Headlights
One of the reasons an electric riding lawn mower has become a reality is because of lighting technology. If the mower batteries have to power two 30-watt bulbs, it [obviously] takes away from the energy source. You'll get less mowing time because power has to go to the bulbs. However, with LED lighting, you'll have the longevity of the low-energy bulbs as well as remaining power.
Low noise/no heat
Since the Ryobi riding mower doesn't use gas power, the noise is significantly cut down. Plus, an added benefit is that the only heat being created is from the batteries, not from a combustible engine.
High Torque Powers Blades and Drivetrain
There are 3 brushless motors that run the blades and drivetrain of the mower, so you'll be getting a longer lifespan from the motors themselves. A distinct advantage of a brushless motor is that there are no brushes to wear out. That advantage in turn creates low maintenance of the brushes. There is a high initial cost for these types of motors, but the benefits outweigh that cost.
If Ryobi decided to use brush motors, the disadvantage would likely be more electric noise and have a much shorter lifespan on the motor and overall the mower itself.
Safety Features to Consider: Reminders and Operator Presence
The following features for safety come with the RM480e model:
Beeper Indication for Parking Brake Reminder
Operator Presence Control
Key Removal Reminder
Reverse Reminder
Parking brake
Beeper Indicator for Parking Brake Reminder
One aspect that's really fascinating about what Ryobi did for this equipment was add safety features that don't normally exist on a typical riding mower. One of those being a beep reminder for your parking brake. That way, a reminder will be given if you happen to be on a hill or in an area where you may have thought you set the brake.
Operator Presence Control
For those out there that have experience with a riding mower, you are probably aware of an operator presence control system that is usually in place to shut off the riding mower blades within three seconds. There's actually a safety standard implemented by the CPSC (Consumer Product Safety Commission) that suggests manufacturers to stop the blade(s) of the mower if the operator does not disengage the drive.
Unfortunately, this standard is not required, but merely recommended. It's really an option that should be a requirement for any riding lawn mower.
Keep an eye out for a label on the machine stating it meets the ANSI/OPEI B71.1-2003 standard for safety.
Key Removal Reminder
This is pretty self explanatory, but if you leave the key in the ignition when leaving the seat of the mower — a nice, friendly reminder toner will remind you to take the key with you. Except for the people out in the country that leave the key in all the time, this will be helpful.
Reverse Reminder
In addition to the ANSI B71.1-2003 standard was a safety feature labeled NMIR (No Mow In Reverse). This states that the blades will not continue to rotate once the riding mower is shifted into reverse.
The Ryobi RM480e implements a reminder about reverse driving. I hate to mention it, but many riding mower accidents happen from reverse incidents.
Parking Brake
Set this and the mower won't move. Pretty simple.
Other Sweet Features: Yep, Cell Phone Charging Enabled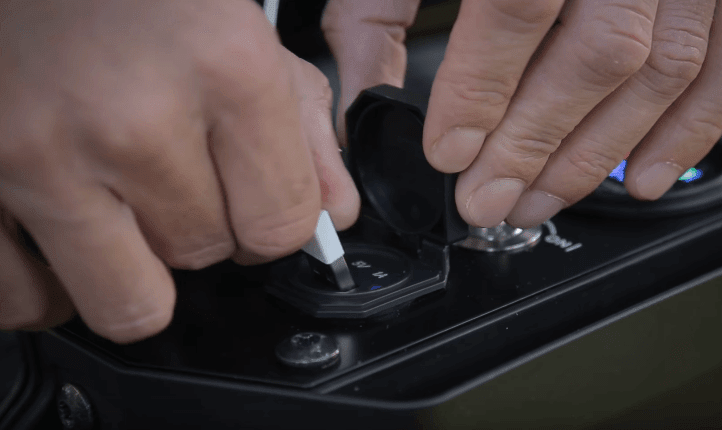 When is the last time you (or someone you knew) rode on a riding lawn mower with a smartphone charging option?
It comes standard on this mower. Such a great feature; although I do wonder how much time your phone charging capabilities will take away from your mowing time frame.
One of the features that definitely stood out to me was that this thing offers cruise control! Yep, that's right. You can drive it like a car. Tie the cruise control feature in with a cup holder and it's a sweet right through the yard, cold drink on board and tight turns.
What Types of Batteries Does it Ship With?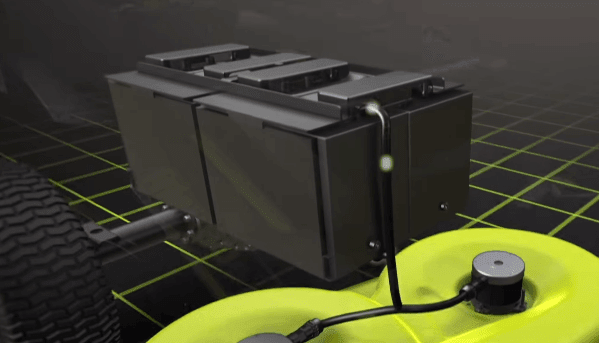 One of the greatest technologies right now that is accelerating rapidly is lithium-ion batteries. And, while many of us are used to having them in our smartphones, power tools, and other pieces of tech, they aren't quite compatible with what an electric rider needs to operate.
The type of batteries Ryobi decided to use are lead acid. Inside the mower are four 75Ah 12V batteries (hence the 48-Volt total). After they are depleted, you'll have to wait about 10-12 hours for recharge on a typical 120V outlet.
Plus, regular lithium-ion batteries aren't air breathing batteries anyway.
Virtually Maintenance Free and Easy Operation
For the same reasons of moving to an electric string trimmer, an electric riding mower is no different. You get all of the benefits from using electricity instead of gas and super low maintenance. That means no belts, no spark plugs, and no filters! Who doesn't get excited about that?
With a 3-year warranty, if the minimal routine maintenance does not cover a problem, it will be repaired or replaced without charge for parts and labor by an authorized service center for RYOBI. As the owner of the equipment, shipping costs (if needed) will have to be paid by you.
What Are Ryobi's Electric Mower's Specs?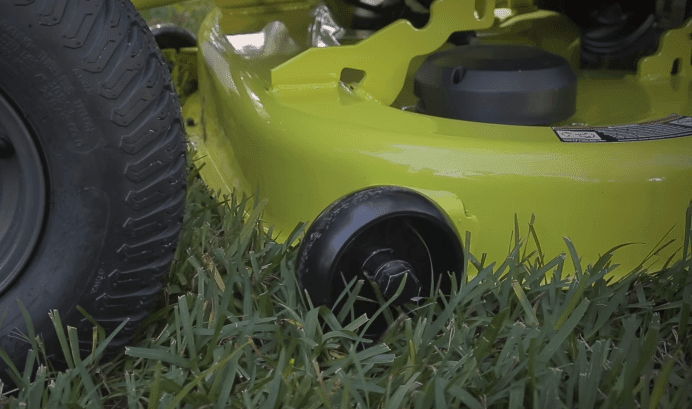 12-Position Deck Height
With 12 positions to adjust for the deck, there are plenty of options to make your lawn down to less than 2″ (1 1/2″ min.) or if you have a longer cut, the deck can be raised.
Side-discharge, Mulching or Bag
Options still exist for your preference of how to contain the grass clippings. If you do want a bag, you'll have to purchase a similar bag like this one separately.
16 inch Turning Radius
A comparable gas model to the Ryobi RM480e has an 18″ turning radius. A smaller turn radius means tighter corners. With a 16″ radius, that means making turns more efficiently around the yard.
Reinforced 12 Gauge Deck and Steel Blades
Precision cut steel blades help with cleaner cuts and longer sharpness. The deck is also made of reinforced steel to protect it from bumps, trees, and other collisions. The deck is also weather resistant to withstand things like moisture and grass buildup.
Realistic Comparison Against Gas Powered Riding Mowers
The below models are the closest comparison with the Ryobi RM480e because of the differences with deck width and the form factor. As you can see, the pricing does vary with each model, and although the Ryobi is a bigger upfront investment, you'll gain dividends on not worrying about regular maintenance that comes with a gas riding mower.
Where is the Ryobi RM480e Electric Mower Available?
As the time of this article, the electric riding mower is exclusively available at Home Depot. It's possible that more vendors will eventually get the RM480e model, but not certain. This is similar to the Greenworks 60V lineup only being available at Lowes.
Summary and Thoughts
With Home Depot's 30 Day Return Policy, if you're in the market for a new mower, this is a winner. With other electric mowers coming into view, Ryobi will have to set the standard to continue providing the best electric equipment for the average consumer.
You can find the mower at Home Depot and they'll be on/off sites like Ebay in the future.
We've reached to Ryobi Marketing to hopefully get our hands on a demo of the riding mower or even some of their new lineup of power tools.
---
Ryobi Electric Riding Mower Resources and Guides
Don't forget to download Adobe Reader to view PDFs on a desktop.
Ryobi RM480e Electric Riding Mower MSDS
Ryobi RM480e Electric Riding Mower Users Manual