Growing up, some of us had to take vitamins to make up for what we missed in our diet. Now that we're all grown with kids of our own, I've prepared this Flintstones vitamins review to help you pick the right choice for your child.
My diet was pretty good when I was little. I grew up in the countryside as an only child and never had to worry about questionable farm produce. There was so much in plenty; my mom and dad enjoyed eating healthy, so I had a balanced diet (with the occasional cheats) throughout my younger years.
That didn't stop my mom from including the occasional dietary supplement once in a while. Whenever she felt like I was missing something in my meals, she'd make up for it with supplements. Of course, she'd consult a doctor to make sure I wasn't taking too much of certain nutrients, but overall? I was as healthy as a horse!
Now, things aren't as easy as they were in the past. It's very common that kids are on vitamins and other supplements to give them the best nutrition they can get, but you have to make sure you get safe and effective vitamins. Apart from worrying about how healthy your organic food is, you worry about the supplements as well. Some vitamins may contain harmful chemicals or allergens.
In my search for the best vitamins for my son, I came across the Flintstones vitamins. The first thing I liked about them immediately was that they were gummy vitamins. My son absolutely hates taking capsules and tabs. So, after doing tones of research, I decided to try them out with him!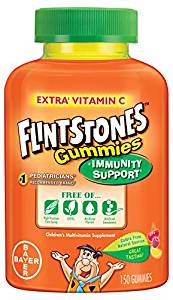 At first, it was difficult picking a Flintstone package to buy. There were different flavors and contents, and there is also something for toddlers. You can pick chewables for improved immunity, bone health or for an iron supplement. Eventually, I decided to go with the Flintstones Immunity Support gummies to see whether it would help lower his flu occurrences.
About Flintstone Vitamins
The vitamins are based off on the old 1960s cartoon, The Flintstones and the characters (like Fred and Wilma) are the same faces you can see on the gummies. Apart from other Flintstones merchandise, the vitamins have been around for over 50 years, though not initially created by a medical team.
After the Bayer company acquired the lab that made the Flintstones vitamins, they went on to create new characters and flavors. Now, you can have your Flintstones vitamins in seven different flavors with different ingredients as well, depending on your nutrient preference!
Flintstones come in these varieties:
Flintstones Complete
Flintstones with Iron
Flintstones Plus Omega-3 DHA
Flintstones Plus Immunity Support
Flintstones Plus Bone Building Support
My First Flintstones
While Flintstones Complete comes in three forms: chew-able, gummy and sour gummy.
Overall, my son is quite healthy and active. However, I noticed he was a little more susceptible to the flu than I was at his age. To avoid excessive medication, I figured improving his diet was a better way to improve his immunity while he is still young, and the Flintstone Gummies were a way to help alongside a balanced diet.
The main ingredients in the gummies include vitamins C, A, E, and Zinc; all which play a vital role in boosting the immune system as well as improving eye health. As a bonus, there are other B-vitamins (B6, B12, and Biotin) that help in improving energy levels. The gummies are free of allergens like aspartame, dairy, fish or eggs However, there are debates regarding the sweetener and color content.
Results From Taking Flintstone Vitamins
Every day, my son would take two gummies (make sure they chew them completely!) for the next three months. What I noticed most was the improvement in energy. He had fewer flu bouts than before, and I wasn't sure whether to thank the vitamins or the overall combination of diet and the gummies.
Pros
A fun way for kids to take their vitamins
Affordable
Variety of gummies to choose from
Cons
Conclusion
From my Flintstones Vitamins review, though I had no problem with the vitamins (apart from the possible artificial ingredients content), I think it's about how much you need the nutrients. If you trust that your child has all the nutrients they could ever need from their diet; then you could do without multiple dietary supplements!
Why Some People Will Argue Flintstone Vitamins Are Bad
Artificial and Natural flavors: Artificial and natural flavors are found in all of Flintstones vitamins. Artificial flavors are created in labs by specialist and most are derived from petroleum. Artificial flavors contain loads of chemicals, here is the long list of everything approved for artificial flavors here.
According to Food Insight, natural flavorings can come from any of these sources: spice, fruit or fruit juice, vegetable or vegetable juice, edible yeast, herb, bark, bud, root, leaf or similar plant material, meat, fish, poultry, eggs, dairy products, fermentation products.
But it's best to have things labeled naturally organic as the additives not allowed in natural flavor in organic foods include propylene glycol, polyglycerol esters of fatty acids, mono- and diglycerides, benzoic acid, polysorbate 80, medium chain triglycerides, BHT, BHA, triacetin.
2. Artificial Colors
3. Hidden labels for sweeteners and Sugar
4. Carageenan
FAQ Sections
Are Flintstones vitamins good?
The colors in the Flintstones vitamins are attractive to kids, and the gummy design makes it easier for kids (and adults) who find it hard to swallow tablets and capsules. Though the Flintstones vitamins are nutritious, artificial additives like flavors and colors may not be healthy in the long run.
There are different types of Flintstones vitamins depending on age and nutritive value. While there are vitamins for toddlers and older kids, Flintstones vitamins are not suitable for children under 2 years of age, and parents should supervise the vitamin intake.
Can adults take two Flintstones vitamins?
So far, there are about eight types of vitamins for children and adults. Overall, adults can take two gummies of Flintstones vitamins daily as recommended on the label or as directed by a physician.
Do Flintstones vitamins have Iron?
Not all Flintstones vitamins have Iron; Flintstones Plus Iron contains 15 mg of Iron while Flintstones Complete contains 18 mg of Iron. Before taking an Iron supplement or giving it to your kid, read the product label carefully – it would be best to consult a pediatrician, physician, or nutritionist if you are unsure about taking the supplement.
Can you overdose on Flintstones vitamins?
Too much of certain nutrients may do more harm than good, which is why a balanced diet is essential. Flintstones vitamins contain an array of vitamins and minerals, some of which can cause serious side effects if consumed in high levels – for example, vitamins A, D, E, K and some minerals can be harmful when overdosed on.